Hawaii Five-O Review: "Palekaiko"
at . Comments
Hawaii Five-O returned this week with an episode that was sheer paradise.
There was more drama and action in "Palekaiko" than there was on Monday Night Football, that's for sure - and that's how it should be. This episode had a great mix of everything that makes Hawaii Five-O one of the best new shows of the season. There was plenty of suspense and witty banter, along with the obligatory shot of McGarrett with his shirt off.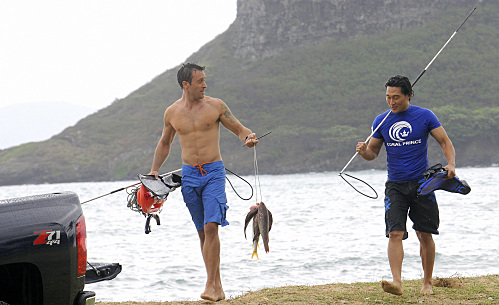 The viewers were put back on track with further clues regarding the case McGarett's father was working on before he died, and with the reveal at the end about McGarrett's mother there should be a lot of juicy story on the way.

Moreover, a brief, but pertinent exchange regarding Chin's ex revealed a bit more about him and, from her reaction, Kono as well.

Danno and McGarrett had a number of great exchange this week. I think my favorite took place in the car just after McGarrett had to tell a young newlywed that her husband was dead. The mix of serious, emotional bonding, coupled with Danno's reaction to McGarret's musical taste made the scene priceless.

My one complaint regarding the episode was based on the official CBS preview for it. Nearly the entire first half of the episode centered on investigating the young bride as a possible suspect, but the preview had already made it known that that part of the story was a red herring.

It's unfortunate because I believe the serial killer aspect of the show could have been more of a shocking reveal. Luckily, that slight spoiler did not detract from the over all impact of the hour; there was no loss of engagement in the story.

I hope to see much more of Masi Oka as M.E. Max Bergman as the series progresses. He stole the spotlight yet again here with his portrayal of the eccentric medical examiner.

This episode was fun to watch and kept me connected with the story. It was nice to be able have an hour of suspended disbelief. What did everyone else think?

Tags: Hawaii Five-0, Reviews