Ian Somerhalder Spills Vampire Diaries Scoop: Stakes to Be Raised, Havoc to Be Wreaked
by Matt Richenthal at . Comments
Damon, as much as he fights it, is starting to feel. And that angers him. It scares him. It's just different for him, and he doesn't quite know how to deal with it.
So says Ian Somerhalder about his character's state of mind going into this week's episode of The Vampire Diaries, which will feature a seriously hot sex scene between Stefan and Katherine.
That means Damon should be celebrating, right? Not exactly, the actor tells Entertainment Weekly.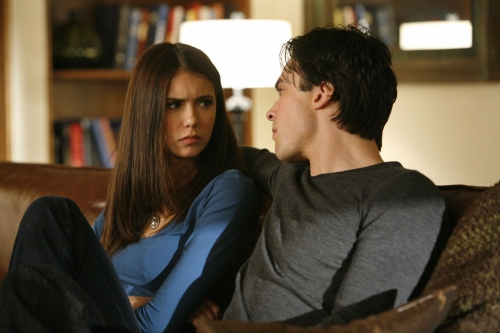 "It's been so long since he felt like this that it's freaking him out," Somerhalder says. "Another element shows up to Mystic Falls that again compromises and endangers what he started to love, and so the stakes get raised again. At the end of this episode, it's pretty heavy for him."

Another element? Is Ian referring to The Originals, an influx of werewolves or both?

Somerhalder would only tease:

"Stefan is locked in that cave. In all actuality, it's kind of what Damon's been dreaming about. But Damon wants to get his brother out of there. He's gonna try really hard, once he works out what he needs to work out. As much as he wants to kill his brother sometimes, he loves him.

"There's such a commonality of pain between these two guys. They're in love with the same two women. Two of them - it's absurd. [Laughs] That's where we leave off. And the protagonists that have come to town, they mean business. They're gonna wreak some havoc, and they're gonna cause some problems for us, that's for sure."

It's also worth noting that Somerhalder has started The IS Foundation. It will work with other organizations and focus on "supporting and nurturing" various planet wildlife.

Matt Richenthal is the Editor in Chief of TV Fanatic. Follow him on Twitter and on Google+.

Tags: The Vampire Diaries, Interviews, Spoilers