In the words of Maudette Hornsby: Epic.
That was my reaction to Psych's love letter to Twin Peaks, an episode titled "Dual Spires" that made for an entertaining and nostalgic look back at one of the most groundbreaking shows of the 90s.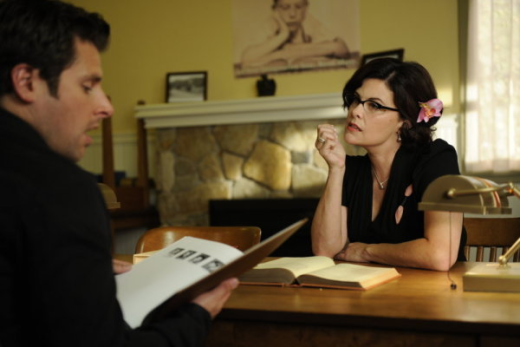 Any show that can seamlessly integrate as many call backs and references should be given an Emmy. Not a single line of dialogue or scene went by without an underlying meaning, from The Great Northern newspaper to the Sawmill Diner, and, most memorably, the montage at the end with the "man from another place," the iconic man in a red suit, and that haunting dance that appeared in the original series.
The best part about it was that none of the references were out of the way; they flowed well with the plot and the rhythm of the episode and dialogue.
Psych
got serious points for using an anagram of Paula Merral in reference to the original dead-girl-by-the-lake, Laura Palmer.  Especially intriguing was the fact that Sheryl Lee, the original Laura Palmer, was the one to find the dead Paula Merral - very eerie, but very cool.
This episode was not one for advancing any of the individual character plots or relationships. We only saw Henry once and Carlton only a few times more. Instead, the installment was dedicated to the town of Dual Spires and its quirky residents, and rightfully so.
As far as themed episodes go, this one would definitely qualify as Psych's best, which is saying a lot, considering the well-crafted season four finale which cited some of Alfred Hitchcock's best and most memorable movies.  The care they took in engaging Twin Peaks and still remaining true to the show is something Psych manages to accomplish unfailingly, no matter what theme it tackles.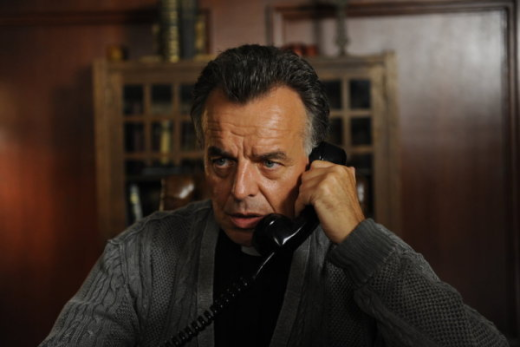 There were many great moments in the episode. I was a big fan of Sherilynn Fenn's role as a librarian. I definitely saw a lot of Audrey Horne in her character Maudette. I really liked the little bit of the Juliet and Shawn relationship embedded in the episode, too, it wasn't out of the way or too obvious, just a little bit to remind us what show we were watching.

The writers also did a really good job of keeping the case at hand interesting, especially within the context of the tribute to Twin Peaks. The most memorable part of the episode, though, was perhaps the reveal of Paula Merral's body - I found myself flashing back to watching the pilot episode of Twin Peaks. Great stuff.

If you have the opportunity to watch "Dual Spires" again, it's definitely one to keep in the DVR. I know I'll be re-watching it very soon!

C. Charles is a TV Fanatic Staff Writer. Follow her on Twitter.

Tags: Psych, Reviews