Michael Trucco Speaks on Fairly Legal Role, Love of Castle
by Matt Richenthal at .
He played a role on one of the most iconic shows in recent TV history, guest-starred on an ABC favorite and now helps anchor a new hit on USA.
How does Michael Trucco feel about his career these days? We spoke to the former Battlestar Galactica actor on a conference call this week, as he addressed his role on Fairly Legal and his experience on Castle.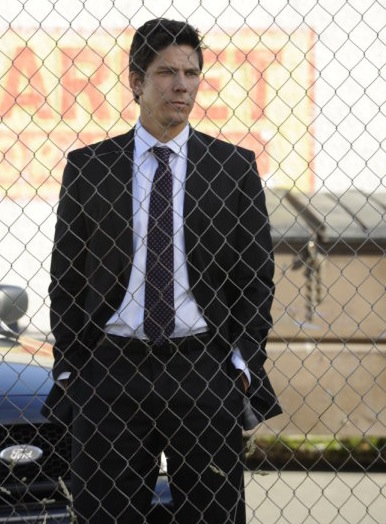 What drew you to Fairly Legal?
I liked the idea of Fairly Legal being 180° turnaround.  That's the complete departure from the tone of a show like Battlestar Galactica and that was attractive to me.  I think it's important for an actor to look for diversity in their roles and I like the idea of playing a human being, for one.  I like the tone of the show, the light-hearted, the dramady so to speak and the character interests me.  I'm a son of a police officer, and so the aspect of law and prosecution interests me greatly.

How long did it take you to develop chemistry with Sarah Shahi?

when you're thrown into a scene with somebody and you're half naked, there's not a lot of room for discussion.  You just jump right in and sometimes the dynamic works between two actors and sometimes it doesn't.  And Sarah and I were fortunate to discover that there was a good rapport.  There was a lot of trust between the two of us.

Can you talk about your time on Castle?
[It was] a very comfortable atmosphere, extremely professional cast and crew and it was a real treat.  It was a real pleasure to get to play on that show before we started shooting you know Fairly Legal.  I've retained friendships with all of them, in fact, since then and even just in my short time there, the four episodes, what a blast.  I would do it again in a heartbeat if I was given the opportunity.

Matt Richenthal is the Editor in Chief of TV Fanatic. Follow him on Twitter and on Google+.

Tags: Fairly Legal, Interviews
From Around the Web