Skins Series Premiere Review: Total Bollocks!
by Sean McKenna at .
Skins is adapted from the UK series of the same name. With its critical acclaim across the pond, the show's creator sought the opportunity to bring his authentic take on the teenage world of angst, sex, and drugs to the states. The UK series, now in its fifth season, is a pretty good show.
Ultimately, the series premiere of MTV's versions was basically a duplicate of the UK pilot. Storyline, characters, and even dialogue were the exact same, with a few minor changes here and there.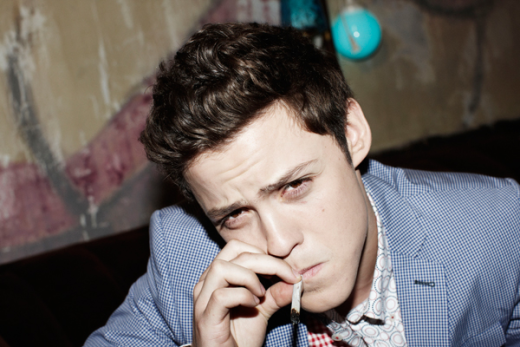 That said, I'm not going to go through and complain how one version is better than the other or simply list the differences and similarities. This series is its own take on American teenage life.

It's nice to see actors that actually fall in the range of their characters (I'm looking at you, Gossip Girl and 90210...). Unfortunately, many of these stars came across as overzealous in their acting. It could be that many of them are in their first roles, which does invite the opportunity for authentic moments. However, it often sounds like they are rushing through lines. Even the adult actors are over the top.

Which makes me feel as if the dialogue is really the problem. It's not a depiction of actual teenage conversation, almost too quippy and cleverly arranged. What might have worked in representing the look and feel of UK culture comes across as awkward. Words like "spliffed" and "skins" are specific to England and aren't normally uttered by anyone here.

When it came time for the party and Stanley's chance to lose his virginity, everything felt staged. I didn't feel like I was watching real American teenagers. Plus, just because certain teens are rich doesn't mean they all wear Polo and pastels. The attempt to create a divide between the world of the main characters and the prep school kids came across as stereotypical rather than an intimate look at the ways in which they are different.

Can someone fill me in on why Stanley and Tony were naked together in bed? It seemed like a weird ending to the episode.

I appreciate the ability to try something fresh and new and Skins certainly makes that attempt. I understand that there are advising groups of real teenagers that help the show runners on authenticity, but I still felt like I was watching a group of actors reading lines.

I even admire the concept of taking various sides and depicting situations in which real teenagers can be placed.  Not every high school is bubbly, pristine, and perfect. Yet as provocative as this show might be in its attempts to feel real, it doesn't feel authentic for American teenagers. It's as if British characters were suddenly dubbed with American accents.

Maybe the pilot was simply an homage to the original series, but some more work needs to be done to create an authentic American version in the upcoming episodes. I'm prepared for this to become a guilty pleasure of awesome trashy fun, but for this episode I was simply waiting for it to be all over.

Sean McKenna is a TV Fanatic Staff Writer. Follow him on Twitter.

Tags: Skins, Reviews
From Around the Web