90210 Review: Cheating, Lying, Blackmailing
by Arlene G. at .
And the question on all our minds this week: "Is it better to have loved and lost than never to have loved at all?"
Silver and Navid went at it like rabid rabbits on "All About a Boy," while the former kept fretting about doing it all behind her BFF's back: I can't do this.  I'm the other woman. I'm a cheater and a liar. And your iguana is touching me. Whoa, what? Is that what we're calling it these days?  Alas, it was just Bernstein, Navid's pet iguana, but the sliminess abounded.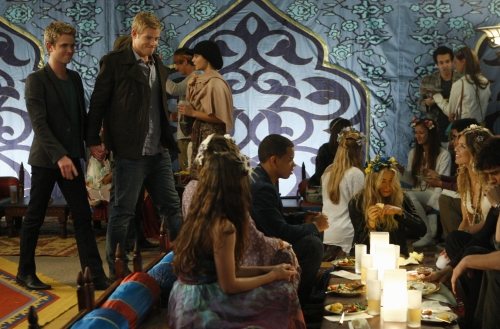 Adrianna pulled a play out of the Kardashian handbook and claimed to want her baby back just to land a reality show?  Navid was right when he said "Adrianna is delusional." 

Navid couldn't handle Adrianna's "whole new level of selfish" and used that as an excuse to break up with her.  Perhaps also an easy out to ease his guilt-ridden conscience? I'd say so.

Apparently that pan-faced Katherine woman was drinking from the same Kool-Aid cup as Adrianna when she wanted Annie to audition for "The Importance of Being Earnest."  Of course, because Annie is clearly Oscar material.  But clearly Single White Female/Jennie Garth look-alike cousin Emily had the conniving upper hand when she "accidentally" told Annie right before her audition about Deb and Ryan canoodling.

Surprise: Annie blew it and Emily got the part.

Ivy was still freaking about surfing again and while at first it looked like she had turned to Guru Sona for enlightenment, she eventually turned to ganja instead.  Finally. At least she'll be semi-interesting now that she's a stoner.

Teddy flipped out because he found a blackmail note and an incriminating photo in his locker.  $50K to keep his secret?  Oh please.... maybe back in 1953 (when Trevor Donovan was really in high school) but in 2011?!  In LA?!? 

Still, that was enough to send him into a tailspin and make him want to pay up.  Silver figured out Teddy's deep dark secret and offered him a shoulder to lean on after asking him "How long did you know that you were into guys?" It was funny to hear Teddy respond with "I don't want to be gay.  I'm supposed to be a tennis star."  But he redeemed himself when he added: "How am I supposed to ask someone to be okay about who I am when I'm not?"

Kudos to 90210 for getting to the heart of the matter with what some kids out there probably wrestle with in similar situations.

Strolling into Naomi's desert party for Guru Sona, hand-in-hand with Ian, Teddy was met with "oh my gay!" but the gang seemed unfazed over all.  Later, finding out it was Ian who blackmailed Teddy in order to "nudge" him out of the closet was a kick in the teeth - and just like that, Teddy broke up with the loser.

Elsewhere, Naomi was enlightened like "Madonna in her Ray of Light phase," as grubby Guru Sona conned Naomi into "donating" 10 acres of land for her wellness center in Topanga Canyon after telling her she was on a higher plane than other people.  Once Naomi found out that line of BS was fed to others at the party who also "donated" to the Guru's cause, she exposed the Guru as a fraud.  Shove it up your ashram! All to no avail, the deed had been done... or, in this case, the deed had been signed.

And in her last feeble attempt to seduce Navid, Adrianna discovered he had been canoodling with another chick.  Turning to Silver for comfort, Adrianna had to rely on the very same person who's backstabbing her. Acceptance and happiness and ultimate betrayal all on the same night.

Namaste, bitches!

Tags: 90210, Reviews
From Around the Web