Hawaii Five-O Review: "Loa Aloha"
at . Comments
Forget the story about the bomber seeking retribution against the officials he held responsible for his son's death on "Loa Aloha." It was just okay.
But it soon became nothing more than filler when considering the gripping tale of Danno and his younger brother.
Dane Cook was the ideal choice for Matt, the height difference notwithstanding. The comedian pulled off all the subtle touches that revealed his character, from his interactions with Grace to the clever way he ambushed Danno with Rachel's presence.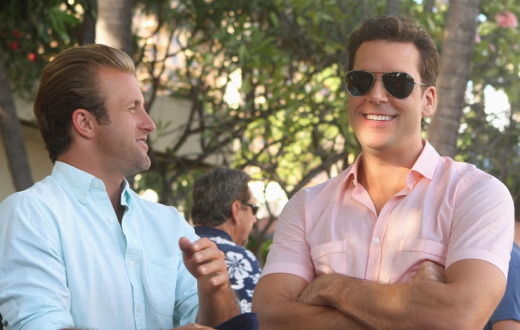 Danno was put through the emotional wringer this week. His fierce belief in his brother's innocence was shattered by Matt's omission of guilt. He was then forced into a choice no sibling should have to make by either letting his brother flee the country or shooting him to prevent it. I was actually surprised Danno allowed Matt to get on the plane, considering his steadfast adherence to the rule of law.
Will his decision come back to haunt him? And will Matt ever return? I certainly hope so.
The light-hearted and more dramatic scenes between Matt and Danno were superb examples of why Scott Caan was nominated for a Golden Globe this year. I could clearly feel his frustration and heartache.
Adding fuel to the fire was Rachel, and the clear romantic feelings she and Danno obviously have for each other. With Stan conveniently away on business, one must wonder: will his wife remain loyal?
For once, McGarrett actually used his truck for police work. I had thought he might have chucked it since he's always driving Danno's car, or working on the old Mercury. Picking up Danno to tail Matt just proved how connected these two are, as expressed in this exchange:
McGarrett: Why, what are you going to do?
Danno: It's nothing. I've got it. I'm gonna take care of it.
McGarrett: Okay, I know what nothing means, so...
Danno: Nothing means, nothing, Stephen. I'm fine.
McGarrett: Don't go anywhere I'm gonna be there soon. | permalink
I wish I had something to add regarding the other story, but, as mentioned above, it faded into the background with the strong presence of Danno and Matt.

It was standard Five-O fair that may have stood out had it been paired with a different subplot, as the second bomb was a little surprising. But there weren't any real twists and turns, just a straight forward look at the team catching a bad guy.

Tags: Hawaii Five-0, Reviews