My expectations for The Chicago Code couldn't have been higher. As someone who gets visibly angry any time I meet someone who has not watched The Shield, it's safe to say I was excited for Shawn Ryan's first creation since that drama.
And, while not perfect, the pilot episode did not disappoint.
It introduced viewers to a couple dedicated detectives; it set clear lines of battle; and it paid tribute to one of America's most picturesque cities. If the goal of any premiere is to invest viewers in what's at stake and what they can expect in the future, The Chicago Code certainly accomplished that task.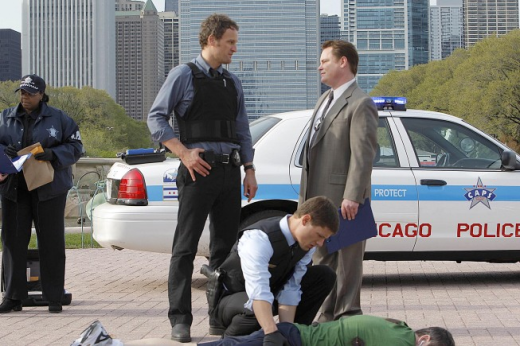 The three lead characters all feel unique. Jarek Wysocki could easily be the cliche-ridden version of a cop that doesn't play by the rules, but that's not why he hasn't been able to keep a partner when we meet him.
It's because he does respect the rules, and he's lost patience with those in a corrupt city that continually break them. He doesn't think any partner can match his intensity and desire for justice... until he meets Caleb Evers.
A nice departure from the quiet high school student Matt Lauria played on
Friday Night Lights
for two seasons, Caleb is good at his job and he knows it. How can we tell? When pressed, he admits to Wysocki: "I'm really good."
But Caleb also knows his role in this burgeoning partnership. He'll be driving the car and pulling all fire alarms for the foreseeable future. It's refreshing to see a young cop with a personality, as many other shows would have gone the odd couple-ish route of pairing up the grizzled veteran with the naive rookie. Instead, The Chicago Code unites a Cubs fan with a White Sox fan (great use of the home baseball teams in this exchange, giving personality to both the detectives and the city itself).
Then, there's Teresa Colvin. She's a bit more of the archetype you'd expect upon hearing that Jennifer Beals is portraying the Superintendent of Police. She's young and attractive and aware of how these traits make her look in the eyes of others. Hence, the obligatory scene of Colvin demoting a veteran and telling him Chicago is now "my city."
She needs to establish such dominance to her underlings and to the viewers.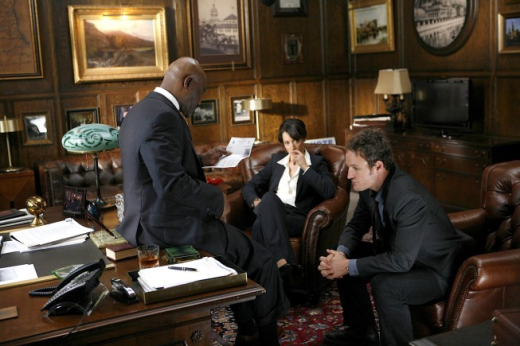 All three of these officers will tackle corruption in the Windy City, as led by the most corrupt of them all: Alderman Ronin Gibbons. Ideally, the show wouldn't have hit us over the head so strongly who how shady of a character this is (after asking his assistant to lick his ear, I was afraid Gibbons would twirl his mustache), but I understand the need to draw very clear lines at the outset. The audience has to know who to root for.

On The Shield, Ryan excelled at painting his antagonists in shades of grey (or something a lot darker for Vic Mackey), but he didn't spend a lot of time creating layers for any villains. It will be interesting to see how well we get to know Mr. Gibbons.

My only real complaint about the pilot episode? I hate voiceovers. I find them insulting and unnecessary and, in the case of Antonio getting shot, distracting. A story should be written well enough on its own so that the viewer is shocked and moved when such an incident takes place. It shouldn't need this kind of gimmick.

Because this one was used in such an overt and strange way, giving each lead his/her minute in the narrative spotlight, my best guess is that it was Ryan's decision to simply reveal a few pieces of background information in the most efficient way possible. Like ripping the band-aid off the past as quickly as possible and not worrying about the mess it might cause. I can grant him that. But I really hope we don't see it again.

And I'll definitely be there to find out. I'm on board. Save me a seat in that car, Jarek and Caleb. Because there have been countless police dramas, I'm sure we'll see many familiar set-ups in episodes to come, but due to its location, characters and grand ambition, The Chicago Code feels fresh. I'm anxious to see how the city punches back.

Aren't you?

Matt Richenthal is the Editor in Chief of TV Fanatic. Follow him on Twitter and on Google+.

Tags: The Chicago Code, Reviews