What can Pretty Little Liars fans expect from this drama's impending season finale? Shocks, surprises, painful jaws that drop open violently upon viewing various scenes. Isn't that right, cast members?
"It goes out with a big bang - jaw to the floor," says Tyler Blackburn (Caleb).
"You are not going to believe what happens. [The finale] was so much fun to film, it was absolutely crazy," says Troian Bellisario (pictured, Spencer).
"There's going to be a couple of huge things that happen to Melissa that just leave a lot of loose ends," says Torrey DeVitto (Melissa). "She has two really huge things that happen to her."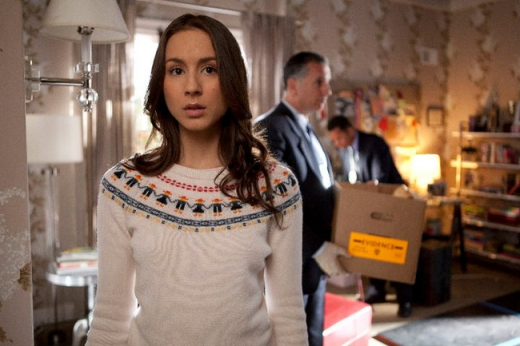 Bellisario says her character's world will get turned "upside down" starting tonight, as police officers raid her room.

The actress also tells E! News that a confrontation is brewing between Spencer and Jenna.

"The crazy thing about Jenna is that she is totally evil and she has a perfectly legitimate reason to be... There is a really great scene coming up of Spencer facing off with Jenna because Jenna gets pretty jealous."

Where will it all lead? What might make the finale so startling? Visit our Pretty Little Liars forum and let the guessing games begin!

Tags: Pretty Little Liars, Interviews, Spoilers