The Secret Life of the American Teenager Review: "Who Do You Trust"
by Leigh Raines at .
The summer's over and everyone on Secret Life's got something to show for it.
In "Who Do You Trust," Adrian is officially on bump watch and we finally get to see some progression in the relationship between Amy and Ricky. That only took how many seasons?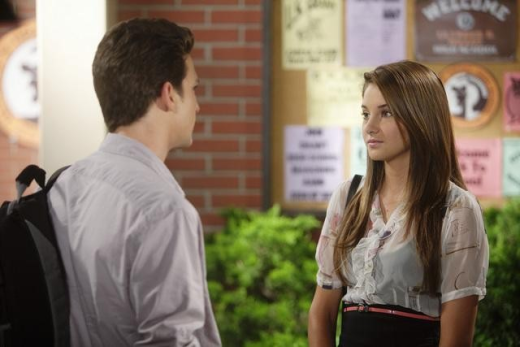 Adrian sports her bump proudly, despite gawking stares from people like Henry. I guess it's not everyday that teenagers see their peers pregnant, but don't you think this crew would be kinda used to it by now? If you ask a pregnant woman if she is having twins, when in fact she is not, you are going to experience a serious wrath.

I actually found Adrian and Ben to be a cute couple until they started constantly comparing themselves to Amy and Ricky. Get over it already! Amy seems to be the only girl at that school who has grown up.

Amy and Ricky are dating and she's ready to take the next step with him. Even though they've actually already taken that step - you know when he knocked her up, right? - now she's ready to have sex again with the father of her baby, someone she cares about, and someone who she is getting to know in a better way.

The one caveat is that she wants Ricky to get tested. This sends him into a wave of panic and instead of just heading to the clinic, he proceeds to ask the entire female student body if they're "clean." ARE YOU KIDDING ME? Sometimes the writing on this show just kills me. Of course this segued into the PSA of the episode, which is that everyone should tested (it's true).

I don't understand why all of these kids are debating if they wanna twist somebody and talking about it with their parents. I get that the premise of the show is that parents should talk to their children about sex. And I agree, they should. Granted, I'm fairly sure I learned everything about the birds and the bees through my older siblings and perverted friends - but there should still be an open dialogue of sorts.

However, I cannot imagine myself having the conversation that Grace had with her mother when I was in high school. Nor can I imagine any single person I know having that conversation.

It's times like these that the show just takes it a little too far. Girls obsess about sex behind closed doors with their friends, not over cookies in the kitchen with their mothers. At least not until they're in their 20s and it's no longer a shocking secret that their kids are not virgins. That being said, I did think Amy and George's conversation was decent. Amy is a teen mother, Ricky is the father of her baby and there is a lot to be explored there. (Even if Ricky sometimes throws petulant little tantrums.) Her family isn't oblivious to this fact and I applaud that.

What I do not applaud is the fact that Ashley is still on this show. Now Bitter Betty wants to get home-schooled? Ugh, seriously, enough with her sullen teenager act. I no longer feel bad for her. We've all been there. That's why people say college is the reward you get for surviving high school.

Nobody loves high school. Girl is straight up miserable, though. Someone get her a therapist, a Xanax, a trip to a spa, or a school transfer. It's clear she needs to release all of her hatred, anger and jealousy. With all of that said and done, readers, go get yourself tested if you are sexually active. It's better to be safe than sorry and end up like Jack who apparently had a little somethin' somethin' happening below the belt.

Leigh Raines is a TV Fanatic Staff Writer. Follow her on Twitter.

Tags: The Secret Life of the American Teenager, Reviews
From Around the Web