And the Top Chef Winner is...
by Kate Moon at .
An epic eighth season of Top Chef drew to a close this week.
Despite some unexpected eliminations, we never had doubts about Richard, did we?  Mike Isabella? Yes. But not Richard. The contestants here got a chance to open up their dream restaurant, if only for the finale. Let's break it down!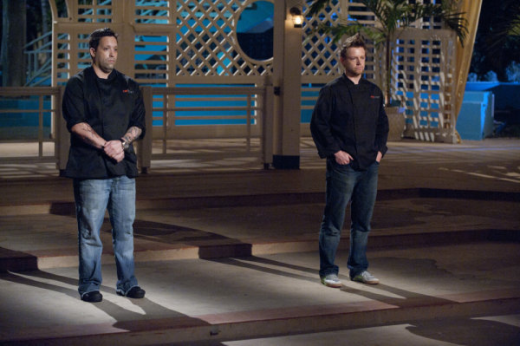 The Final Challenge
No Quickfire, there's just too much to do! The finale seemed a bit rushed to me, but at least Mike and Richard got to open up the restaurant of their dreams, with eliminated foes as their sous chefs. In an interesting twist, the chefs could not directly pick the latter; instead, the sous chefs "auditioned" for Mike and Richard.

While it's a fun twist, I wonder how happy the eliminated chefs must be to cook for the finalists. The fact that chefs who aren't chosen seem rather excited to enjoy their time in the Bahamas probably makes Richard and Mike more nervous.

The chefs are apprehensive, of course, because in addition to gems like Angelo and Antonia, there is also Jamie and Marcel. Richard gets Antonia, Spike, and Angelo, a fairly strong team, while Mike picks Jaime (ouch!), Carla, and Tiffany.

Richard's Restaurant: A surf and turf restaurant named Tongue & Cheek. So Richard!

Menu:
Amuse Bouche: Raw Oyster with Lemon Horseradish Ice Cream and Salsa Verde.
Raw Hamachi with Fried Veal Sweetbreads, Asian Pear, Pickled Radish, and Garlic Mayonnaise
Pork Belly with a Black Cod Cutlet, Bone Marrow, Beets, Brussels Sprouts, and Kumquat
Beef Short Rib with Mushrooms, Red Cabbage Marmalade, and Celery Root Horseradish Puree
Cornbread with Foie Gras Ice Cream and Whipped Mango

The food is generally well-received by the judges, although they seem a bit confused by the foie gras ice cream. I'm awfully curious to know what that tastes like.

Mike's Restaurant: An Italian-themed restaurant named Iz, as his mother called him Izzie while growing up.

Menu:
Spiced beets with Mozzarella, Chocolate, and Truffle Vinaigrette
Halibut with Kumquats Marmalade, Cauliflower Puree, and Pancetta Crumbs
Braised Pork Shoulder with Pepperoni Sauce, Roasted Cabbage, and Turnips
Rosemary Caramel Custard with Pine Nuts, Citrus, Cherry and Apple

Mike's restaurant gets rave reviews, as well, although his dessert isn't as well-received.

Judges Table
The judges seem really pleased with the food; and they're certainly more complimentary than usual, with Tom telling them it's the best food ever during the finale, in a heartfelt manner. Both Mike and Richard look like they're about to faint when the judges praise the other chef's food. They seem to like Mike's food the best, but perhaps that's a product of the editing.

Finally, Padma announces the winner. It's... RICHARD BlAIS! YES!! Top Chef did not fail us after all; I will give props to Mike for a great hustle but Richard deserved it more than anyone else, and it took three seasons for the man to redeem himself!

I have no qualms admitting that Richard is one of the most talented and creative chefs ever on Top Chef, even if his attitude did suffer a bit during the latter half of the competition. Do you agree? 

Tags: Top Chef, Reviews
From Around the Web