In the first half of Top Chef's season finale, "The Bahamas: Part 1," an unprecedented five chefs arrive at the Bahamas. Although all five universally pleased the judges during the previous episode, they did not fare so well this time around. Let's break it down: 
Quickfire Challenge:
The contestants are greeted by the sight of the Top Chefs of their respective seasons, Stephanie, Hosea, Michael Voltaggio, and Kevin. Does anyone remember Kevin?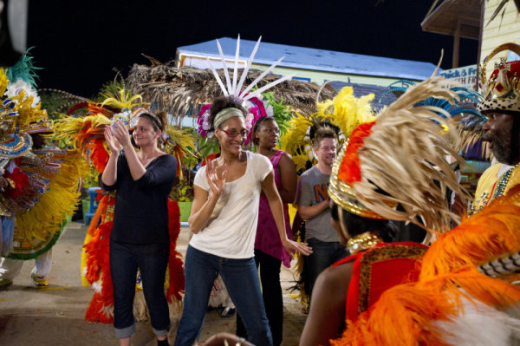 A lot of money is at stake: it's a cool 10K for whoever wins their Quickfire as the chefs battle the winners. It hardly seems fair that the winners might get an extra 10K in addition to their 100K, but it's an exciting Quickfire nonetheless.  Although they face mystery ingredients, they're actually pretty standard proteins, such as veal and duck. 
Season Face-off Results
:
Tiffany wins over Kevin with her poke stew (does anyone else miss Angelo?)

.

Hosea defeats Carla due to her undercooked rice.

 

Richard easily defeats Stephanie, who beats Antonia.

While I love Stephanie and the fact that she's the only female Top Chef winner, Richard probably is the more talented chef and lost due to his nerves in Season 4.

In a crazy upset, Mike beats Michael Voltaggio! Michael might have the personality of a potato, but he's no loser
Elimination Challenge:

The elimination challenge is to cook for Bahamian royalty. Do the Bahamas have their own royalty? Either way, the chefs are pretty psyched (and nervous) and dream up some complex dishes.

Unfortunately, things turn south for the chefs. The aforementioned "royalty" are more like street carnival folks, with the King of Junkanoo.  And their kitchen is quite basic, to the point that one of the fryers basically explodes and the chefs must flee their food, losing a huge chunk of time to cook.

Judges Table:

Sure enough, the judges are universally unhappy with the food. Really, the chefs probably did the best they could under the unforgiving circumstances, but the judges don't care.

Mike's sous vide chicken is the only dish they (mostly) enjoyed, although the meat was a little dry.  They didn't like Carla's apple chips or her pork, and they don't like Antonia's grits. They were a little harsh about the change in menu, but what could Antonia do? The kitchen did catch on fire! 

Mike is the universal winner and the judges choose Carla to pack up her knives and leave the Bahamas. Not Carla! There goes the best personality in Top Chef...

Tags: Reality TV, Top Chef, Reviews