Top Chef Review: Who Went Home?
by Kate Moon at .
 I recently saw an article that listed Richard Blaise as one of the most annoying reality contestants of the season. While I adore Richard for his creativity and root for him to win Top Chef, I can definitely see why people would see him as a downer. 
It's also because Richard seemed so energetic and humorous in Season 4, when he was a clear favorite and brimming with enthusiasm. While he tackles challenges with the same gusto this time around, he seems to be drowning in his own doubts and neuroses as the season progresses. I really feel for the poor guy because he so desperately wants to win that he's just a total wreck and can't decide if he's confident or a ball of nerves!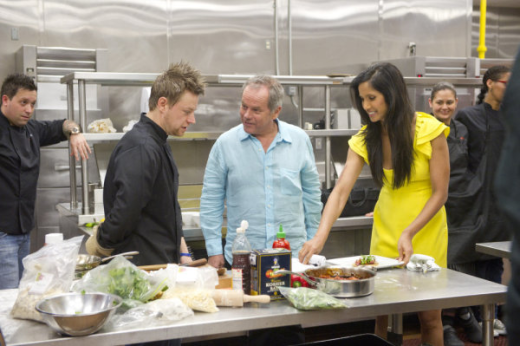 On the flipside, Mike is just overflowing with confidence, having won a few challenges in a row; I can't stand his stupid grins. As last woman standing, Antonia clearly has a lot to prove, and you can see that the stress is slowly eating away at her. Let's break down the "The Last Supper!"

Quickfire Challenge:

Definitely the most confusing challenge to date: the chefs must face some of the most difficult Quickfire challenges from previous seasons, and their fellow contestants get to pick the challenges. Mike gleefully assigns Antonia with the canned food challenge, in which she can only use canned goods. Antonia gives Richard the task of cooking hot dogs, and Mike can only cook with one pot.

Antonia points out that cooking with one pot doesn't seem like much of a liability; and I'm inclined to agree, if anything, it simplifies Mike's task by limiting his choices and cutting down his prep time. Come on, Richard! 

While the chefs whirl around the kitchen trying to make something delicious with their respective handicaps, Padma and Wolfgang Puck, the guest du jour, announce that there is another twist to the Quickfire. They get to assign one another with famous Top Chef "twists," which are just additional handicaps.

Richard can only cook with one hand, Antonia must merge with Carla (hi, Carla!) to cook as one, and Mike gets no utensils. At this point, the challenge just seems mean, and the poor chefs seem pretty haggard after finishing up the Quickfire. 

The dishes still look presentable and pretty delicious. Antonia makes coconut curry shrimp soup, Richard does an Indian twist on hot dog and Mike makes pork shoulders. Not to hate on Mike, but his two handicaps are the easiest of the bunch, and he had already sliced the pork before the no utensils handicap. He wins the Quickfire and 5K. 

Elimination Challenge:

The theme "Last Supper" also incorporates two Top Chef classics: telling a story through food, and cooking the favorite meals of famous chefs. Mike gets Michelle Bernstein and fried chicken with biscuits and gravy (Mike is insanely lucky this episode!). Wolfgang Puck asks Richard to cook goulash and apple strudel; and Morimoto of Iron Chef asks Antonia to make sashimi and miso soup. 

They're seemingly less complicated food, but of course the chefs must put their own personalities in the food while pleasing judges with perfect palates.  Antonia has easily the most daunting task, since she doesn't have much experience with Japanese food. 

Judges Table:

And Blaise makes it to the finale! Yes! He gets high marks for his goulash and strudel, which impresses Wolfgang Puck. It's a really tense room as Antonia and Mike await the judges decisions. The judges nitpick at both Antonia and Mike's dishes until... yet another twist? 

The two must battle it out for a final spot by preparing one final bite-sized dish that will land them a spot in the finals. This must be the longest day ever for Antonia and Mike.

Both chefs make lovely dishes: Antonia cooks grouper in coconut lobster broth (yum!) while Mike goes out of his comfort zone with lobster in tempura batter with beef tartar. 

It's a close call (4-3) but in the end Mike secures the final spot alongside Richard Blaise. It's tough to see Antonia go home, not only because she's so talented and wanted to win so badly, but also because she was the last woman standing and it's tough for women on Top Chef.


Tags: Reality TV, Top Chef, Reviews
From Around the Web