Hawaii Five-O: Sean Combs Surprises in "Ho'opa'i"
at . Comments
I didn't have very high expectations for tonight's episode of Hawaii Five-O.
In fact, I was a little unhappy about it because I wasn't sure about the guest star, Sean "Puffy"Combs. So, I was pleasantly surprised to have my low expectations greatly exceeded with "Ho'opa'i".
Sean Combs did an outstanding job as undercover officer Reggie Cole. It was easy to like his character, and care about what would happen to him. Combs managed to realistically convey a man running on adrenaline seeking justice and revenge for the murder of his wife.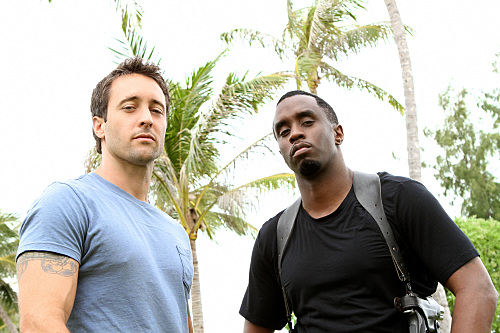 The only thing that sort of had me raise an eyebrow was when Reggie used two guns to take out one of the hired killers. Hawaii Five-O runs on action movie rules so a certain heroic badass factor often comes into play.

There was just something a little off that made the choice stand out. Perhaps, it's simply because McGarrett manages to be a badass with just one weapon most of the time.

Since he's no longer running the Carnival of Crime it was a treat to see Keith David make an appearance as a crime lord that could actually be taken seriously. I would have liked to see a bit more of him as Jimmy Cannon, but it likely would have detracted from the story.

McGarrett and Danno had some excellent exchanges, as always. I think my favorite occurred just before McGarrett used Danno's car to bust through Jimmy Cannon's gate.

Though Danno's reaction to McGarrett claiming he would work by the book were he in Reggie Cole's shoes was also a great moment. I'll definitely have to look for The Patriot Act for Dummies, and War & Peace without the peace part.

Even though this was a fun episode and I enjoyed Sean Combs, I'm hoping the suggestion that Reggie join the Five-O remains unfulfilled. I'm not sure the team needs to expand since there's already a new team member helping McGarrett investigate Wo Fat.

Although at this point, I'd take Reggie over Jenna Kaye.

Bit by bit McGarrett, is still receiving pieces of evidence stolen from his father's tool box. I have a feeling the returning evidence is building to something that will be addressed by the end of this season. I'm still not entirely sure it's Wo Fat that has been sending McGarrett the evidence, but I don't quite have any other suspects.

What did you think of tonight's episode?

Tags: Hawaii Five-0, Reviews