When Parenthood started last season, Sarah had just moved home after living away from her family for many years. She is so integral to the family now that I found myself wondering what life with the Bravermans was like before she returned.
She and her children have really shaken things up, and given the family a perspective that must have been missing while she was gone.
Perhaps it's because she is hard at work on her play that she can see things so keenly and almost from afar. Unless it is with regard to her own children, and her view is clouded with darkness. She brings to each of her family members a warmth and understanding I think they must have genuinely missed in her absence.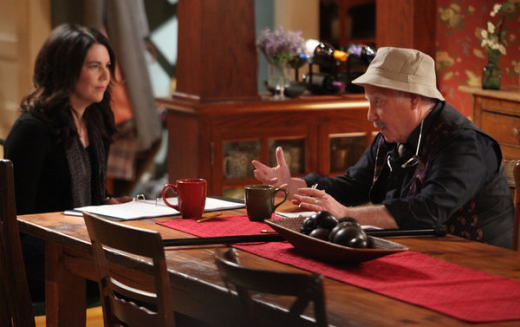 When she visited Julia at work and ribbed her about her broken arm (I'll have to ask Erika Christensen what she did to that arm on Twitter...), you could see the genuine pleasure her concern brought to her sister.

In one exchange Sarah learned of Julia's heartache and inability to conceive more children and that her own daughter didn't get accepted to Berkeley. It was quite the visit.

I've mentioned before that the similarities between Sarah and Amber keep them from fully embracing the intricacies of their relationship, and watching them deal with this unexpected turn of events in Amber's life drove that home. Sarah really had no idea how to react to Amber's news, and yet I could imagine a young Sarah behaving in the very same way.

I enjoyed their moment discussing the prom. Any reference to Pretty In Pink while surrounded by a pile of old gowns has to bring a smile. Did anyone else notice that what Amber actually wore to the event looked nothing like what was on the bed earlier? That must have been one heck of a sewing job.

As Sarah struggled with Amber, she was also expected to strip and rewrite a portion of her play. After a rather heated exchange with Amber about her "New Plan" to take control of her life, it looked like she found the inspiration to bring the changes to fruition. I wonder how that personal event will resonate in the play, and how Amber will take it (assuming I am right in my assessment). If a reading is imminent, it won't take long for us to find out.

Adam was a bundle of nerves worrying that Haddie and Alex would have sex at the prom. After all the conjecture, Haddie returned home looking sullen, until she reached her room. A sly, intimate look came over her face. We will have to wait to find out if Adam's nightmare came true, but it sure seemed like something happened that Haddie wasn't yet willing to share.

Crosby made another rash decision in a seemingly long string of them this season. At the very least, this one can be viewed as an investment. Sarah's talk with Adam brought him back into the fold and although he may never forget that his brother messed up his beautiful, budding family and the loss Max suffered as a consequence, he was willing to forgive him. The siblings rallied around Crosby as they realized together they could work some magic on his little house to make it a home.

My favorite part of the episode was the pre-prom scene, when the various family members mingled and snapped photos and laughed. Adam worried, Sarah beamed at Amber's beauty, Alex and Haddie waved at Kristina from the couch. It was like a perfect family moment and so rare to see it portrayed with such simplicity.

Each week, I become more invested in the lives of the Braverman family. Share your thoughts about the episode and the Bravermans' familial interactions in the comments. I'd love to hear them!

Carissa Pavlica is the managing editor and staff writer for TV Fanatic. Follow her on Twitter and on Google+.

Tags: Parenthood, Reviews