This might be the first week in history that Secret Life didn't drop the word "sex" every other sentence. Okay, maybe they just mentioned it every third sentence.
But, in "Deeper and Deeper" we saw couples who wanted to take their relationships to new levels in ways that surprisingly didn't involve sex!!
It turns out Ricky said "we'll see" to Amy's proposal and she's fine about it. Really girl?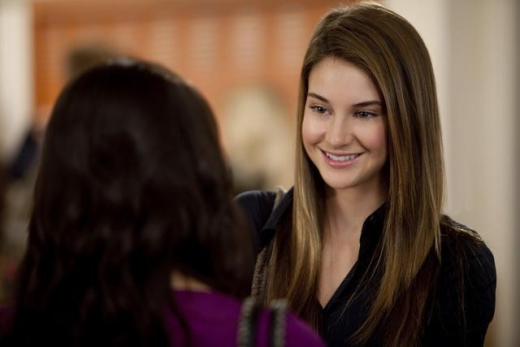 I mean, we know you're submissive, but I can't imagine any chick reacting calmly to this. For anyone who has watched the show from the beginning, you know Ricky has problems so in light of that I'm glad he is with an understanding and patient girl like Amy. And by the end of the episode it looks like they finally compromised.

Ben and Adrian were busy hunting for a new home together, but Ben was finding something wrong with every apartment. Adrian realized that it had more to do with Ben's fear of moving out than with the condos. It was interesting how she and Amy exchanged useful advice when they don't even like each other.

I guess that's just how frenemies work.

Jumping back to to central focus of this show, sex, Madison and Lauren are still obsessing.

The name of this show should be changed to "Swiping Your V-Card." All they do is talk talk talk about sex. Not to mention Jack turned down Madison because he was nervous she'd want to get married. I mean, with all the stuff happening with their friends I can see why Jack would make a ridiculous assumption.

Madison, on the other hand, really just wanted some exclusivity which is pretty damn normal. Also normal was Grace and Grant having sex and enjoying it. Of course the writers turned this cute little moment into a PSA about how perfect it was because of the fact that they waited, said I love you, were safe and promised not to hurt each other.

Grace even acknowledged that they were only juniors in high school and they might not even end up together. What's with this dose of reality? No 16 year old girl is that clearheaded, sorry! Been there and know that. Whatever, I applaud Grace and Grant for being in a good place.

I also applaud Ricky and Amy for attempting to take a step in a new direction. It would be lovely for all of these couples to work out, but like Grace said they're young and you never know what's going to happen next.

Leigh Raines is a TV Fanatic Staff Writer. Follow her on Twitter.

Tags: The Secret Life of the American Teenager, Reviews