The scene when they showed the planes flying in and the families readying their homes for the return of their loved ones, made me feel so humble. It amazes me that we actually have people who are still willing not only to fight for our own country, but to assist others in their own fights for freedom.
That the whole post gathers to greet the troops is even more touching. I'm so glad we have a program on television that shows the other side of serving our country.
I say the other side, since so much of our entertainment focuses on the negative. So, yes, I cried. Darn this show and it's tear jerking capabilities!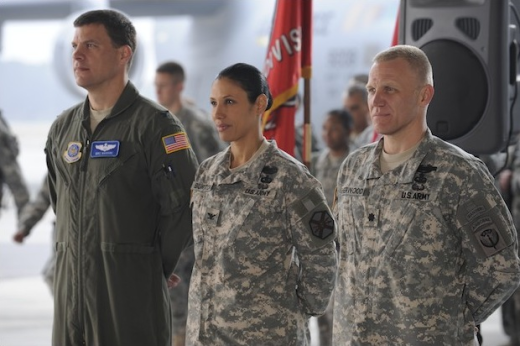 When I think of the cast taking time out of their real lives to visit bases, it makes it even more emotional.

Denise really stepped up to the plate in not only going to greet the returning soldiers, but in taking special care to welcome those who didn't have someone there to greet them already.

That she held it together while talking with the troops who served with Jeremy showed how much strength she has. The love in Frank's eyes as he watched her made me tear up all over again.

Am I the only one who thought that Claudia Joy might have been having reciprocal feelings toward Chandler? More likely I was putting my own feeling onto the character, because I don't know how I could deal with being a soldier's wife and still have to face all of the difficulties life throws your way, but without your partner.

It was so romantic that Michael wanted to skip lamb chops and head upstairs with his wife when he got home. Now that they're an empty nest, they can have a lot more romantic scenes together. It's an exciting proposition.

It's great how well Denise knows Claudia Joy, and even though she said she wouldn't tell Michael about the kiss, Denise knew she would anyway. When she went ahead and did it, I wanted to scream.

It had to happen right after his first good conversation with Grant. Michael never trusted him to begin with, but he does trust his wife. I was glad they took a route I wouldn't have, because it made for better television. Michael is a force to be reckoned with, and it made him quite attractive.

I was so angry at Roxy for letting down Whit and his crew. They've been working their butts off on her behalf, and because she was too afraid to tell Trevor of her plans, they're out of work.

It's too bad the troubles between Roxy and Trevor have continued. Normally, they would have been acting like bunnies when he got home, but even that wasn't on the table for them. It didn't even take him knowing about Whit to be unhappy to be home.

Trevor was way out of line when he punched Whit, but I wasn't surprised. To say that finding Whit only added fuel to the fire would be an understatement. Theirs is a marriage being consumed by flames.

It seems we won't have to watch Joan and Roland make silly videos in the hopes a teenage girl will want to bestow her child upon them. It seemed rather convenient when one of Roland's addict patients failed her drug test and overdosed.

Lucky for Roland, her son Bobby looks to him as a father figure, even drawing him a picture of them on a boat together. I really thought he would be the new addition to the Burton family, but fighting the system for a chance to be Bobby's foster parents was, by all accounts, not worth the effort. 

Even Claudia Joy didn't have good news for them. Would I be remiss in guessing that the mother might grant them custody, anyway? In the meantime, they saw a whole playground of children just waiting for someone to step in to love them. The Burtons will not be a one child household for much longer.

"Countermeasures" set the stage for the rest of the season. I look forward to seeing if any of my predictions come true. Will the LeBlanc marriage survive? Will the Burtons soon be foster parents? Are we in for more romantic scenes between Claudia Joy and Michael? What are your thoughts?

As always, I look forward to hearing from you in the comments.

Carissa Pavlica is the managing editor and staff writer for TV Fanatic. Follow her on Twitter and on Google+.

Tags: Army Wives, Reviews