How I Met Your Mother Review: "Landmarks"
by Chris O'Hara at .
Ted will have to wait a little longer to convince a woman to name their children after the spawn of Darth Vader as we saw the departure of Zoey in this week's episode "Landmarks."
No tears here though as Ted said his goodbyes, especially not after that stunt Zoey pulled with the tape. Do you think they ever made a sex tape? Maybe Ted will go all Ray J, but only so long as it doesn't vault Zoey into a reality TV fortune. Either way, Ted was right on the money with his comment about sometimes things have to fall apart to make way for something better.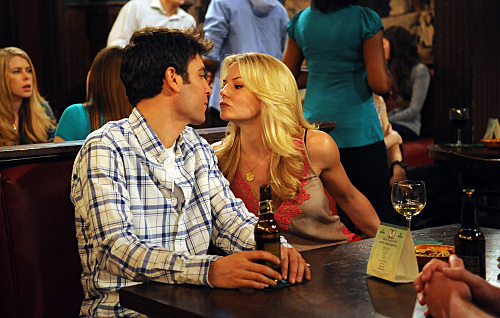 Gladly Barney's career remained intact though. Interesting how none of his friends actually knew what his job at GNB entailed. I couldn't help but be reminded of Chandler Bing. 

Not the best episode for Robin. Her Angry Birds story came off forced and not even the appearance of a ninja could save her. 

What did save the episode though, were Marshall's "sweet sweet rhymes", Ted's dream featuring Barney and his sudden light change, and Arthur's adorable little facsimile.

I thought Ted would somehow give the lion head to Zoey but seeing it mounted above Barney's bed was a great and perfect ending I did not foresee. Nice throwback to him not knowing how to use a screwdriver as well. I liked the court room themed bar idea, but I also thought the Lion's Head Tavern had a nice ring to it until I remembered there already is one here in New York City. Bartenders in sexy judge robes it is! 

I think that's about it for me. A pretty mediocre episode, but ding dong Zoey's dead. Gone i mean, she's just gone.

Looking forward to what you all thought.

We're done here. 

Tags: How I Met Your Mother, Reviews
From Around the Web