The Secret Life of the American Teenager Review: Man & Wife
by Leigh Raines at .
Getting married is a big decision, no matter what age you are. In "It's Not Over Till It's Over," we saw what went through Ben and Adrian's heads leading up to their highly-anticipated nuptials.
While I wasn't shocked they were nervous, I was slightly surprised about who they both spilled the beans to. The pain and fear was so visible on Ben's face when he told Amy he wasn't ready to be a husband and father. He was so pale, I thought he might faint! It is a lot of responsibility to take on at any age, but especially when you're still a kid yourself. Despite his obvious apprehension, Ben is a good-hearted kid and he wasn't going to leave Adrian at the altar.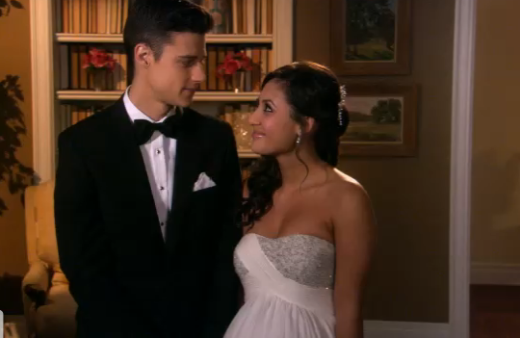 Adrian seemed less nervous and mostly excited. Still, it was also her ex with whom she discussed her jitters. Except in her case, Ricky didn't respond. Perhaps there's a bit of unfinished business with all of the exes, after all. Only time will tell. Alas, Ben and Adrian made it down the aisle and are now Mr. and Mrs. Boykewich.

While this episode ended on happy note with an adorable montage set to Bruno Mars "Just the Way You Are," I get the feeling that a lot of seeds were being planted for drama to come. For instance, Jack set out to break up with Madison but ended up telling her he wanted to have sex instead.

Ricky learned about his first choice college wanting to interview him. While it was obviously great news, it planted a seed with Amy that he might leave her behind. The whole story about Betty's mother being sick was highly shady. I agree with Leo that her siblings found out she is rich now and want to take advantage of that. I also think that, with Betty out of town, Leo's secretary might make her move.

On the upswing, I think Ricky really is in love with Amy. I also think that Ben and Adrian are actually in love, despite their misgivings. And if all else falls through, Nora and her girlfriend are absolutely in love and better yet, engaged to be married!

Next week: tragedy strikes. I'll be there to cover it.

Leigh Raines is a TV Fanatic Staff Writer. Follow her on Twitter.

Tags: The Secret Life of the American Teenager, Reviews
From Around the Web