Men of a Certain Age Review: "Whatever Gets You Through the Night"
by Dan Forcella at .
It may have taken a stint as a bookie, all of his employees to quit the Party Shop, his own bookie knocking his tooth out, and an awkward run in with an old flame, but in "Whatever Gets You Through the Night" Joe Tranelli finally got his focus back on his goal: make the Senior Golf Tour.
It has been a long journey, but he's kicked the gambling addiction for the time being. There was a moment there - when Bill came to Joe wanting to make another bet - that I thought he was going to fall back into it, but thankfully he didn't.  This man continues to grow, even though sometimes it doesn't feel like that's true.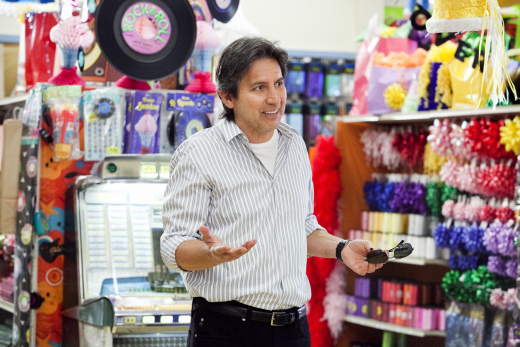 What made that growth, and made Joe's plot, so interesting this week is that it kept building on itself. After he pushed Bill and his money away, and then gave his employees the respect and cash they deserved, I thought the montage of everyone playing golf and having a good time at Joe's Party Shop was the end of that story.  

They were all so happy that it seemed to be the climax of Joe's trek in making his way back to the top.

But as long as it took him to regain some sort of happiness, he was brought down just as quickly with that visit from Manfro. And the tension in that scene was tremendous. Cancer and chemo or not, Manfro is one scary dude when you mess with his business.

It was also so gratifying to see Joe finally pay for the horrible choices he made. If he had never gotten his tooth knocked out, maybe he would have slid back into his addictive ways. But at the end of the episode, he seemed truly content for the first time in a while. Will this continue in next week's summer finale? That's an entirely different question.

While Joe was trying to deal with his problems all by his lonesome, Owen and Terry had each other to lean on in crisis. Thoreau Chevy was in the red big time, and after, seeing Scarpulla's brand new commercial, The Big O thought a new ad was just the right thing to get the family business back in black.

But enlisting former commercial star Terry to co-star with Papa Thoreau ended up being different than anyone could have imagined. This was finally an episode where I honestly enjoyed watching Scott Bakula on screen. I was as unsatisfied as Terry with the original commercial; it packed zero punch.

His new idea to put Lawrence in all of those costumes, while stupid, is exactly the type of thing that will bring people into Thoreau Chevrolet. It's great to see Terry growing up, and becoming a redeemable person, but it was even better seeing Lawrence doing all of those ridiculous characters! Easily the most hilarious moment of the episode, though, was Owen donning the big grey beard for the final spot.

While Men of a Certain Age is about these three individuals, and how they are each dealing with this time of their life, the moments when the three of them come together as friends continue to be the most refreshing.  In "Whatever Gets You Through the Night," the men made their way back to the mountain for a hike. Everything in this scene worked, especially Owen struggling to make his way up and Joe flirting with the fantasy woman, which led to Joe running it off with a sprint up the hill.

Although not at the level of the past couple of episodes, "Whatever Gets You Through the Night" was a perfectly enjoyable penultimate summer episode. What did you all think? And how do you think this brief season will end next week?

Dan Forcella is a TV Fanatic Staff Writer. Follow him on Twitter.

Tags: Men of a Certain Age, Reviews
From Around the Web