So... Noel is back, Caleb loves Hanna, Aria might dump Ezra and, oh yeah, Ian is alive?!?
"It sure seems like he is," Marlene King teased in a new interview.
Following a welcome return of Pretty Little Liars, executive producer sat down with E! News and previewed what's to come on the second season of this hit. Hint: A LOT...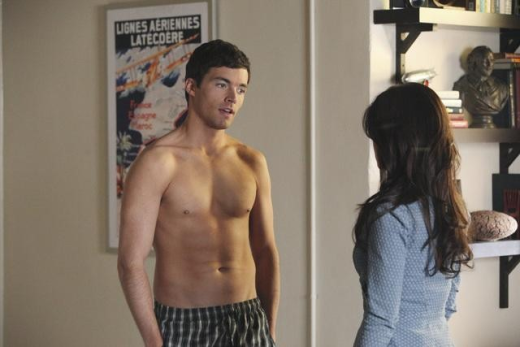 Take your eyes off Ezra and focus, readers! There's serious season two scoopage ahead!

A vs. The Liars: "A" is meaner this season than ever... "A" really does go after the girls sort of no-holds-barred this season. And in the second half of the season, when we come back in the fall, it's gonna kind of slip, and the girls will go after "A" no-holds-barred.

Will Hanna forgive Caleb?

He's gonna have to earn that trust back. She's open to it - she's still madly in love with him - but he's gotta work to earn that trust back.

The Whereabouts of Emily: Emily is going to find a way to stay in Rosewood. Her mother is going to go be with her father, but Emily is going to tell a lie to stay in Rosewood and "A" is going to find out about that lie and make E's life very miserable because of it. She's gonna get it. Poor Emily. Emily really becomes a target of A's over the summer.

What's the deal with Jenna and Officer Garrett Reynolds? There's definitely a big mystery around those three, and over the course of the summer we find out Garrett and Jenna are definitely a couple, they're together. They're very intrigued with Jason - what they term The Jason Thing. They're nervous he's back in Rosewood, they're afraid he's back in Rosewood, and they don't want him to get to know the Pretty Little Liars.

Read the full interview now at E! and react below: What did you think of the premiere?

Matt Richenthal is the Editor in Chief of TV Fanatic. Follow him on Twitter and on Google+.

Tags: Pretty Little Liars, Interviews, Spoilers