Men of a Certain Age Review: When It Rains, It Pours
by Dan Forcella at .
The structure of this second season of Men of a Certain Age created some mixed feelings for me, but the finale itself was an entertaining end to the summer session, as "Hold Your Finish" featured suspense, humor and a whole lot of drama, making it clear why Men has been one of the underrated shows on TV.
It's not often that all three of the stories of our main characters work well. Let me rephrase: It's not often that the Terry story works, and therefore, it is impossible for all three to come together.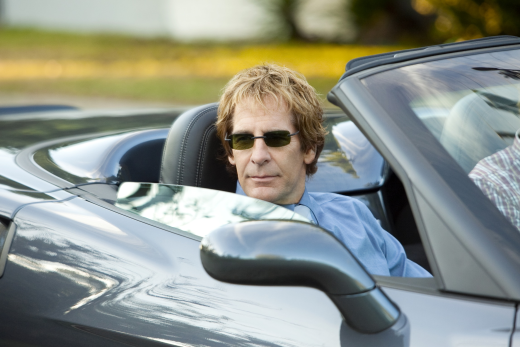 That changed here, as I thoroughly enjoyed Terry's decision to embark on a new creative outlet in life. I was ready to take the whole thing down a few pegs when it looked like he might decide to go back to selling cars. The realization that he needed to grow up and settle down has been made so many times that doing it one more time would have been irritating.

Thankfully, Terry made the final decision to pursue a career in directing, and asked Erin to give him one year to see if it works. The show didn't go around in a circle for the 18th time with this character, but I completely agreed with Owen on the fact that Terry should try to do it on the side for a while.

He made one commercial for a local car dealership. He expects to be able to make it? How about you keep some income coming in, and try to make the directing work outside of that? Maybe I'm too risk averse. Or rational.

That scene, in which Terry made his plea to Owen about leaving the dealership, was spot on. A great speech by Scott Bakula, and an even better reaction from Andre Braugher: "You see how good you are? I'm even falling for this shit."

But Owen had his own issues to work out in the finale, not the least of which was the final confrontation with Papa Thoreau. It had been building for weeks and weeks between these two, and it all went down after the employees backed junior instead of senior. It became clear there was a new sheriff in town at Thoreau; it doesn't matter how many sky hooks Papa does throwing megaphones into the street.

What a cry baby senior is, though. Selling the dealership that your son runs when you know that it is all that he has? How do you do that to your own flesh and blood? I would have called my dad a lot worse than a "pathetic old man" in that situation. Lucky for us all, Owen is a stud and went to his daddy's to hash it out. It looks like everything is going to end up okay at both Thoreau Chevrolet, and Casa, Thoreau.

And with all of that going on, Joe's story was still the best of the week, mostly thanks to Albert. I don't know if I will be able to handle being a father when I get misty-eyed just watching the joy on Albert's face as Joe got closer and closer to qualifying. The love that these two children showed for their dad in this episode was something to embrace.

It was a great way to end the season for Joe. Initially thinking that he lost the tournament allowed him to enjoy his life for what it was. He has two great kids that love him very much. On the other hand, the torrential downpour on the golf course allowed Joe to hang onto his dream of making the senior tour. Bravo.

I thoroughly enjoyed the second season finale of Men of a Certain Age. What did you all think of "Hold Your Finish?" And will you be sticking around for a third season with our favorite middle aged gents?

Dan Forcella is a TV Fanatic Staff Writer. Follow him on Twitter.

Tags: Men of a Certain Age, Reviews
From Around the Web