The Secret Life of the American Teenager Review: The Return of Adrian
by Leigh Raines at .
Its never easy to follow up a phenomenal episode. As a result, it wasn't your fault, "Don't Go In There!," but you fell a little flat compared to last week's installment.
Adrian's return to school was the main highlight. That girl sure knows how to work a room! Ben may have felt sure in his decision to leave her, but his jaw sure did drop at the sight of her busting through those double doors.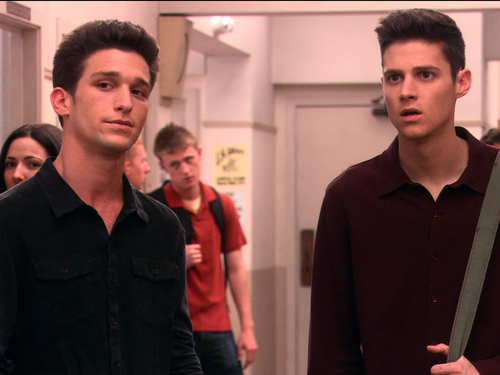 He experienced another jolt when she staunchly defended him in the face of accusations that he was a drunk and at fault for losing their baby. I have to say, Francia Raisa's scenes get better every week. She's turning out to be the true star of this show.

Elsewhere, Leo is being really hard on Ben and I have to wonder if he's somehow using his anger to mask his own marital frustrations. Between his father's refusal to let him move home and Adrian's pleas for Ben to stay in the condo as a friend, it looks like the guy will be staying put for awhile. Of course, this is all part of Adrian's bigger plan, but Ben doesn't know that yet. Keep bringing the drama, you two.

The whole "you won't get into this school unless you sleep with me" plot was off. I understand that Ricky's history as a casanova would cause people to believe he put the moves on Carly, but the whole thing was just really shady. What a depraved nut job this Carly is. I can't wait to see Amy rip her a new one next week.

I don't have much interest in the whole Tom and Rachel storyline. It's a bit forced and out of nowhere. As for his sister Grace: honey. you have no say in who Grant dates after you cheated on him. I applaud Daniel for showing some maturity and making efforts to meet Grace's mother and develop a relationship based on honesty.

Poor little lovesick Jack. What are we going to do with you as you pine away for a very fickle girl? As annoying as I find Madison, nobody should ever stay in a relationship with someone who is so clearly in love with someone else!

I'm not sure whether or not she even told Lauren, but Lauren sure knows how to play it cool with that whole "nah it never came up, guess it wasn't that important to her" bit. Good friends know how to cover your ass with your exes.

Is Ashley still on this show? Are George and Anne back together? Why didn't John cover his ears and say "ow" when he saw his father chucked a phone at the wall? I'm sure we'll find out in time!

Leigh Raines is a TV Fanatic Staff Writer. Follow her on Twitter.

Tags: The Secret Life of the American Teenager, Reviews
From Around the Web