It was Unconventional Challenge on Project Runway this week, and when Heidi said she was looking for the designers to unleash their creativity, Joshua M's mind quickly jumped to leashes, fetishes, and S & M. He may have gone a bit overboard with the concept.
For "My Pet Project," our fifteen designers were sent to a pet supply store to buy materials for their next creations. Tim specifically warned them that using nothing but fabric can be considered boring and safe and was generally frowned upon.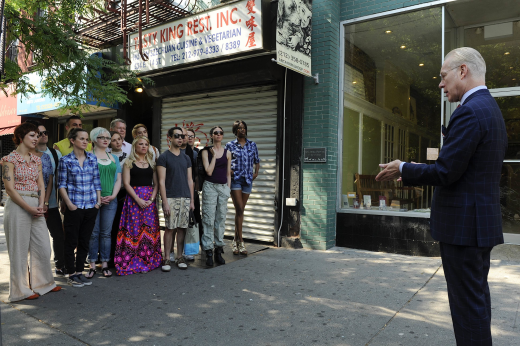 Bert didn't seem to care. Bert's win last week went straight to his head. Having immunity, he ignored Tim's advice. Is he that arrogant or is his attitude just that bad? This is Project Runway, man. Get into the spirit.
Bert's previous outfit was great, but his bad attitude eliminated all of that good will. It's a shame he couldn't step out of his comfort zone because the other designers completely eclipsed him, making Bert look like a boring old man.
Anya had only a couple of braided leashes done with less than a day to the runway. I was thinking she couldn't possibly finish in time.
I need to learn never to underestimate this girl. She must be a fashion designing witch because magic is the only answer to how she pulled off a very cool looking outfit before the deadline hit.
Stacey Bendet, the guest judge, helped choose the top and bottom three.
At the top we had..
Anthony with a dress completely made of hot glued birdseed. I can't imagine having this kind of patience. Michael Kors said she could walk into any party and look chic, as long as there are no birds around.
Oliver's dress had a faux sheepskin dog bed top and a hamster bedding skirt with fish tank tubing around the middle. The judges deemed it exciting and beautiful with a tailored edge. I liked the outfit but the eyebrow accessories were just scary. How often have you heard a makeup artist ask if the model has medical insurance?
Joshua M had a bright colorful dress made of aquarium beads. It was sparkly and beautiful with over the top accessories and makeup. The dog toy shoes were... interesting but not in a good way.
And on the bottom in a fight for the most boring design...
Bryce's puffy blue wee wee pad dress was panned by the judges as another ugly napkin dress. 
Josh C's umbrella dress was too conventional and Michael said the top makes the model look like she's nursing triplets Overall it's just too safe.  It couldn't get more boring. 
Falene used orange plastic plants for her skirt and a brown top. There was nothing interesting about the material. She looked like she's at a autumn harvest festival. I think her use of the plants was interesting but her color palette just doesn't work. 
The judges were at a standoff over the winner, but Josh M was quickly ruled out. Although they liked his outfit, the accessories were too over the top. Sometimes, Josh, more is just too much.

Heidi loved Anthony's birdseed dress but Nina said the skirt was too short to be elegant and it was enough to give the win to Oliver. His outfit was great but I loved Antony's embroidered look more. Even Heidi said it's her favorite but the runway goddess was out voted. Either way, Oliver certainly earned the win.

And at the bottom we had Bryce, who was safe, as it was down to Falene and Josh. Falene lamented her ugly outfit but this was Josh C's second time in the bottom and he was deservedly sent packing.

Tim gave out the supportive hugs as he escorted him out and praised the designers for their wonderful outfits.  I have to agree, win or lose, most of our crew really stepped it up. Except Bert.

C. Orlando is a TV Fanatic Staff Writer. Follow her on Twitter.

Tags: Project Runway, Reviews