Poker, pizza, and overtime were on hand as "Monster" put the whole division under quarantine. For everyone but the rookies, it was nothing new.
I loved the feigned nonchalance of veterans who had been through this all before. Oliver's attitude was that there was nothing to be afraid of until you knew what to be afraid of. Then, Henry Lee died and that act got a little harder to maintain.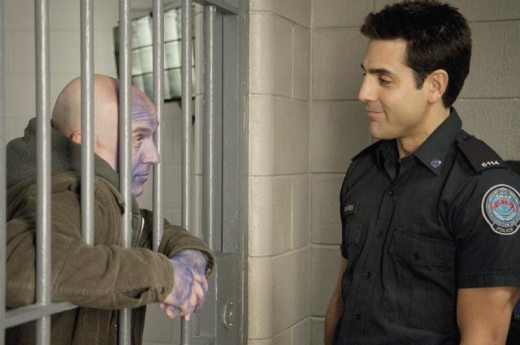 Wow. Dov had big plans for his date. What were they doing? Hanging out at the bar and then "whatever?" Way to make a girl feel special.
I've got to admit, they had me feeling sympathy for grouchy smurf. He and his wife had lost everything. Even though their plan was stupid, beating up the bank manager was much worse. Unfortunately, this couple will no longer have to worry about where they'll be sleeping.
I've never been a huge fan of Chris, but he scored big points with his crazy romantic gesture. Yes, if Gail had really been infected it would have been a stupid move - but it said a lot that he wouldn't let her go through that alone.
Elsewhere, Noelle really needed to cut Frank a break. They've barely dated. They're not even ready to call it dating yet and she springs her baby plans on him and expected... what? The guy deserved some time to process that type on information.
I was happy we got a bit of a break from the Luke and Andy drama. I know the fallout was still there, but at least there were no big dramatic scenes between the two.
But Luke's one response to Dov certainly showed where his head was at:
Luke: Good strategy dating someone outside of your division. That way when it all goes to hell you won't have to see her face every day. | permalink
Jo's gone, Andy wanted nothing to do with him and Luke was definitely feeling a little bitter. Aww. Poor baby.

On the flip side, it was great to see Sam try and help Andy through her breakup, as a friend. He read her so well that he knew exactly what she needed and he was more than willing to be her literal punching bag. 

Although I have to say: to me that looked like their own unique version of foreplay. Anyone else agree?

C. Orlando is a TV Fanatic Staff Writer. Follow her on Twitter.

Tags: Rookie Blue, Reviews