Even though scripted television is planned out far in advance, shows can still get complacent, akin to a professional basketball team in first place by a wide margin.
After a couple of great episodes in a row ("Lunatic" and "Wolf's Bane"), Teen Wolf turned in a bit of a dud with "Co-Captain."  Filled with plenty of exposition early, the chapter's main purpose seemed to be setting up what should be a fantastic final two episodes of the season.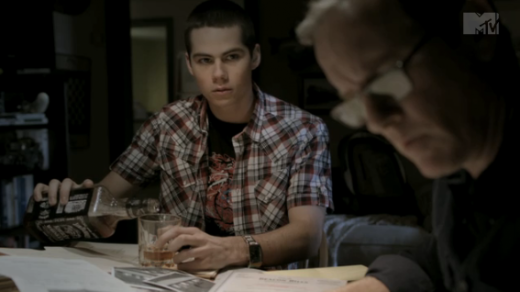 I enjoy Stiles getting his father hammered for information, and I love most anything Jackson does, but the first half of the hour seemed to fly by with nothing happening. After the thrilling finish last week, finally finding out who the Alpha is, I was expecting more.
Thankfully, there were a couple of plot-driving events near the end of the outing that should have everyone excited.
Derek's epic confrontation with Jackson, and Jackson crying in fear of the mean werewolf, along with Scott showing up to save his co-captain (a line of dialogue I will get to later) and getting shot, and Derek giving himself up to the hunters in order to save his fellow beta.
Auntie Kate finally bit the bullet and revealed the family secret to Allison: they are werewolf hunters, and they had one captured in their house! Poor Derek. How will he ever get out of this jam?
In regard to the first point: I'm not enjoying zombie Derek nearly as much as regular Derek. It's just another reason to hate the Alpha. If there weren't already enough reasons, the dude takes Scott's mom out and tries to bite her on the first date? Slow down, big guy. How about you buy her a drink first?

And, yes, the confrontation/crying/fighting between Derek, Jackson and Scott was exciting, but the writing and acting difficult to watch. That "Excuse me... co-captain" bit? Off the charts cringe-worthy.  

While we're on the negative side of things, how obvious was it that Scott's mom's date was going to be the Alpha? As soon as she came in looking good, I said "Date with the Alpha." I wouldn't mind it being so obvious, if it were for the good of the story. If the Alpha dating Scott's mom ended with Stiles ramming the back of his car, then the sacrifice was not worth it.

Point number-two: I'm extremely excited that Allison is finally in the loop. It's been too long. It will be interesting to see her reaction to the revelation, and to see if she can put two and two together to realize that Scott is a werewolf.

"Co-Captain" was not one of my favorite episodes of Teen Wolf, but many of the revelations in it should make for an interesting final two chapters of the first season.  What did you all think of the ep?  And how excited are you for the concluding installments?

Dan Forcella is a TV Fanatic Staff Writer. Follow him on Twitter.

Tags: Teen Wolf, Reviews