Parenthood Season Premiere Review: Six Months Later...
by Carissa Pavlica at .
On the Parenthood season premiere, six months have gone by since we last saw the Bravermans. But this show has the exceptional ability to drop you right into the middle these people's lives and make you feel that you've never been away.
The characters grow at a realistic pace, and half a year away didn't bring about any life altering events. I kind of like that.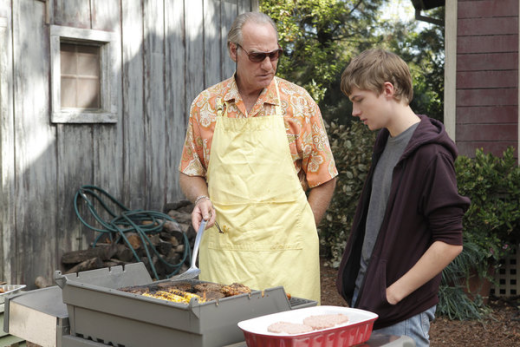 Adam was going slightly stir crazy, as he remained unemployed. Kristina was swelled with pregnancy, but that didn't stop her temporary job from hiring her for a full-time position. I have to wonder if, in reality, an employer would do the same with a glut of non-pregnant unemployed people vying for the same job. Yes, I'm cynical.

Crosby was still a womanizing idiot living out pipe dreams. He seemed to be sleeping his way through town in Jasmine's wake, with his last redeeming quality being his fatherhood to Jabar.

Amber was still reeling from her inability to get into college, and she found a loft and jazzy little car to help ease her transition into her new  life. You know the kind, a vehicle not seen inside the U.S. for decades and a one room loft with a sliding door. Those items that make the cool kids on TV quirky and unlike the rest of us.

Thinking only of herself, she was the first one to leave Sarah's fortieth birthday party. The party was another Braverman event where looking in from the outside they seem the perfect family. All getting along, loving each other and life. And yet each child harbors so much inner pain. All things come around, and Camille reminded Sarah that she missed her 40th birthday party, too.

Some good news for Sarah was that, right off the sinking of The Event, Jason Ritter was back as Amber's teacher Sean and hot on Sarah's trail. Good for him because he fits the role of semi-goofy teacher far better than that he did on the aforementioned piece of junk. He and Sarah had something good before they rushed him out of the picture. I look forward to seeing their relationship blossom again.

I was surprised there was no mention of Sarah's progress as a play-writer. Last season ended for her on such a high note, making me a little disappointed not to find her reveling in her success.

Haddie was still sporting a snotty attitude, and a new, horrific, hairstyle. I wanted to take a brush to her head like nobody's business. She lost her way, but no details as to why were revealed. Dating an alcoholic and doing jello shots do not mix. Whether he was with her or not, it proved how much she doesn't understand about the person she is dating. I was heartbroken for Alex when he found her at the party, smashed out of her mind. Such betrayal.

Julia, sporting a farmer's tan from what I believe was a summer of Ericka Christensen bike riding, was still itching for a new baby of her own. I actually cringed as she spoke with the latte girl about her unborn baby, although the later conversation she had with Sarah that since she sold coffee she figured maybe she'd sell her unborn child, too, was pretty funny. 

That's about it. There wasn't much to the episode, just another day in the life. As such, this is less of a review than a rundown of where we found the Bravermans after six months. Not stalled and yet not screeching forward to destinations unknown. Just living their lives, inviting us into their homes to watch. Like your favorite comfort food, they'll be here each week to remind us of who we are.

Carissa Pavlica is a staff writer for TV Fanatic. Follow her on Twitter and on Google+.

Tags: Parenthood, Reviews
From Around the Web