Person of Interest Series Premiere Review: Serious Business
by Sean McKenna at .
With names like J.J. Abrams (Lost, Star Trek) and Jonathan Nolan (The Dark Knight) attached to Person of Interest, it was hard not go into this premiere with, well, interest.
The premise is relatively simple: Take one down and out ex-CIA agent filled with cynicism and a low gruff voice. Add one wealthy "concerned third party" who looks and acts a lot like Benjamin Linus from Lost. Mix it together with some science fiction grounded in reality about preventing crimes through the use of today's widespread technology.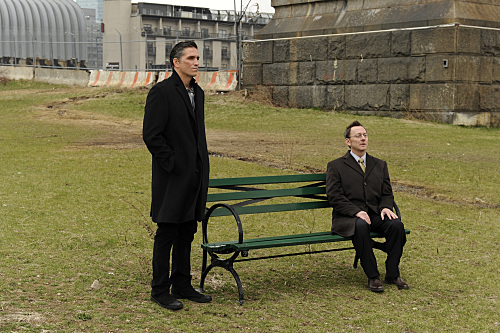 Picture Eagle Eye meets Minority Report meets Jason Bourne meets Wanted.

Jim Caviezel plays the brooding John Reese, haunted by the loss of his past love and attempting to find current meaning to his life. There's clearly a lot of depth and background to this character and I'm sure we'll see more flashbacks, but for now, Reese is highly guarded and somewhat of a cold shell.

There were attempts at a little humor in his dialogue, but the witticisms lacked an inflection that might make him otherwise as charming as he is combat skilled.

But, boy, does he know how to handle himself in a fight. Ruffians and bad guys beware. Whether he's a guy with a scruffy depression beard or a a guy with a steely glare and a nice suit, John Reese is not someone you want to cross. I don't particularly like killing people, but I'm very good at it. Yes, you are.

It was entertaining to see Reese use super moves and weapons on his enemies with confident precision, but it would also be nice to see a little charisma creep out of the character every so often. I don't want Caviezel to play Reese with such a robotic and monotone manner to the point where he becomes simply boring to watch.

There's plenty of room for his character to grow and I hope that Caviezel's acting chops can illustrate a move away from something of a "Terminator" to a Reese with hope and the simple ability to communicate like a normal human being.

Michael Emerson, meanwhile, plays Reese's mysterious boss, Mr. Finch, very much like he portrayed Ben on Lost. That's not a bad thing. After all, there was a reason he was so fantastic on that show. Emerson has a way about giving his lines as if you never can truly tell where his character's intentions might lie. It's a delight to watch.

And with Finch being the creator of "The Machine," there's a lot more to this cryptic man with a limp. What are his intentions? Why did he pick Reese? Is he a good guy or a bad guy? I'm excited to see the layers of his character peeled back.

Overall, the pilot was somewhat procedural in following one particular case, but I don't think I'll mind it week by week as long as Reese and Finch are further developed. It's important to balance each case with the mythology and keep viewers coming back for more.

Additionally, it would be nice to see some character add a little humor, pizazz, and lighthearted spirit to the show in order to contrast Reese and Finch's dark and shadowy selves. I'm hoping that task falls upon Taraji P. Henson as Detective Carter, especially as she attempts to cat and mouse with Reese. She didn't have a lot of screen time this week, but prepare to see her more in upcoming episodes.

There's a lot of potential for the show and I look forward to seeing where it takes viewers. It's safe to say that, while not a perfect start, I'm still very interested.

What did you think of the series premiere? Sound off below!

Sean McKenna is a TV Fanatic Staff Writer. Follow him on Twitter.

Tags: Person of Interest, Reviews
From Around the Web