Up All Night Review: Shut Up, Matt Lauer!
by Chris O'Hara at .
With an all-star cast headlined by Christina Applegate, Will Arnett and Maya Rudolph, I expected nothing less that a gut-busting comedy out of Up All Night.
But I had to remind myself a few times that this was just the first episode. Chemistry takes time, even with such comedic talent involved. Heck, even Michael Jordan missed a jump shot now and again. With that in mind, though, I fully enjoyed the pilot and think after a few baby steps it will be off and running.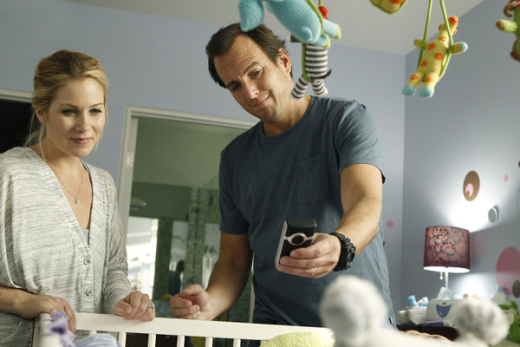 As Reagan struggled to fit into her skirt for work, all while under the critical watch of Matt Lauer, it was clear her return from maternity leave was going to prove challenging.

Her boss, Ava, an emotional eating Oprah wannabe, showed potential for laughs with her cries of "office cleanse," and her cover of "Raining Men." The door was left open for more funny office moments in future episodes. After Reagan's comment about how she is the same woman except for the occasional peeing incident, I saw the opportunity for some funny clashes between home and the work place. Perhaps a breast milk pumping incident down the road?

Chris, meanwhile, shined in his search for normal cheese, his fear of the old lady at the supermarket and then his budding bromance with the surfer, video game player dude. It was a nice switch from the cliche of having a stay-at-home dad cozy up to a hot single mom.

Overall, Applegate and Arnett both had their moments, making it clear the sitcom already knows how to use its biggest names. The show increased Maya Rudolph's role after the success of Bridesmaids, which is fine and welcome... as long as they keep Ava a bit grounded, as they did in her final scene of allowing Reagan to stay home. There's potential for this character to become a caricature.

What did everyone else think? Visit our Up All Night quotes section for a rundown of the best one-liners and chime in now.

Tags: Reviews, Up All Night
From Around the Web