Up All Night Review: "Working Late & Working It"
by Chris O'Hara at .
On "Working Late & Working It," Chris tried to bring sexy back to his and Reagan's marriage.
The domestication of Chris provided a number of laughs and will continue to do so, I hope, as the season progresses. The best instance of such was when he excitedly quoted Gwyneth Paltrow's Tweets. Will Arnett has a great under his breath - almost out of breath at times - delivery and got to show it off as he bashfully, yet enthusiastically, referenced the good homemaking guru.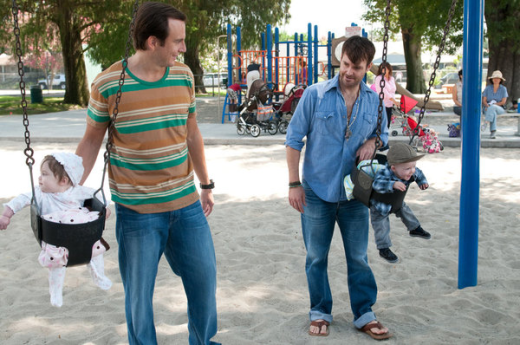 I, too, agreed with Ms. Pepper Potts's Tweet that maintaining the romance in a relationship is very important. Lucky for Chris, it seemed his budding bromance with Reed (Will Forte) provided him with some good advice, despite being a little overly honest at times. What a great touch it was to show the whole "Rachel Broe-esque" style consult, complete with Reed's butt clench that would have made even Nacho Libre blush... only to reveal they were in plain sight of their children the entire time.

Hopefully, the memory of their fathers in their skivvies won't haunt them in the future.

Elsewhere, Ava showed she wasn't immune to painful memories after she learned her former flame B-Ro (Jorma Taccone) was engaged. The music video featuring the two was "Basically" brutal and a far cry from the regular genius crafted by Lonely Island. What was rather amazing, though, was the viral video of Ava and a Color Me Bad clad B-Ro fighting outside the club while onlooker Reagan channeled Kelly Bundy once again with her teased out hair. 

Ava's funniest scenes are still to come, but her more tender moments with Reagan, like the one mentioned in the best quotes of the episode, seemed to suit this character the best while still allowing Maya Rudolph's humor shine through. 

The nice thing about sweatpants purgatory is there's a light at the end of the tunnel and Reagan and Chris seemed to have found it by the end of the episode. Chris' photoshop project, which featured the picture with Barack and the kids and closed with the shot of little Amy, was that blend of romantic comedy that is the show's strongest attribute and what hopefully will keep viewers coming back for more.

Trust in Lorne Michaels, people, the guy knows good TV and there is enough here already to build on. 

Tags: Reviews, Up All Night
From Around the Web