If any series can do a Halloween-ish episode around Halloween - without the holiday being the center of the episode - it's Castle.
The latest outing tracked down the murder of a ghost hunter, while also breaking up a favorite couple. So let's waste no more time: grab your flashlights and let's start looking into "Demons."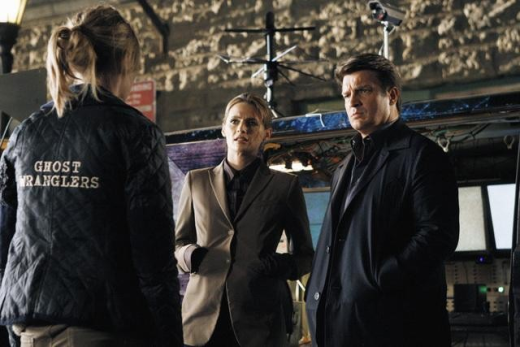 Who You Gonna Call? With this ghost wrangler's killing, the series did it again, providing another fun and light hearted episode that couldn't help but make you smile.
There were many things that were clearly awesome here (the rat crawling on Beckett's shoulder... the body falling on Castle), including the four detectives taking on their theories of the murder. Seriously, who knew they could all talk so fast? Castle's discovery was once again in normal conversation with the ladies in his house. As enjoyable as this usually is, time to switch it up a bit, don't you think?
Daddy Castle. We have seen many sides of Rick Castle - playboy, business mogul, celebrity, funny guy, serious guy, smittem guy. One of the best? Dad. The scenes between Castle and Alexis are often short and to far between, but there are times that these set the tone of an episode. The father/daughter time was very sweet and Castle's parental knowledge once again proved why he is The Nan. Who else is loving that Alexis is becoming her own person? Castle - you did good.
Something Awesome. Castle is one of those shows that nine times out of 10 you know you're in for a good hour, an hour that will make you laugh and smile. This is part of the reason I love it so much. Everyone is entertained by the concept of cops (I mean, there are like 10 shows out right now that revolve around the idea), but this is the only one off the top of my head that can still be light and funny. 
Another example: The second Scooby Doo reference to date. Last season, we experienced, "Zoinks!" and here there was:
Beckett: Maybe Shaggy will help keep Scooby out of trouble. | permalink
Something Not So Awesome. It was finally happening. More screen time for Ryan and Esposito. And now more screen time for the partners and their ladies. This was a recipe for amazing disaster. The short-lived double date resulted in a break up for Lanie and Esposito!! When the M word gets brought up, things do have a way of getting tense. Hopefully, they will work it out because I, for one, cannot be teased with the possibility of these four sharing the screen only to have it swiped away. One thing is for certain: I am not the only one looking forward to Ryan's wedding.

Another solid episode of the hit series. What did you think, TV Fanatics? Did you have fun with the Halloween-esque shenanigans or was it a let down? Who else is upset about Lanie and Esposito? Sound off below and let us know what you thought of "Demons." Don't forget to check back for the Castle Round Table later this week - and view the trailer for next week's bank robbery-based episode now!


Tags: Castle, Reviews