"They remade "Angels in Chains" and I'm almost giddy about it. The story was first shown in 1976 and I'm sure I saw it in reruns at some point in my childhood, but I distinctly remember those first Angels running through a swamp in chains. I believe it was one of the original series highest rated episodes. Go figure.
So I have to say I was smiling ear to ear when our newest Angels got hauled off to a Cuban prison because I knew this was going to be fun.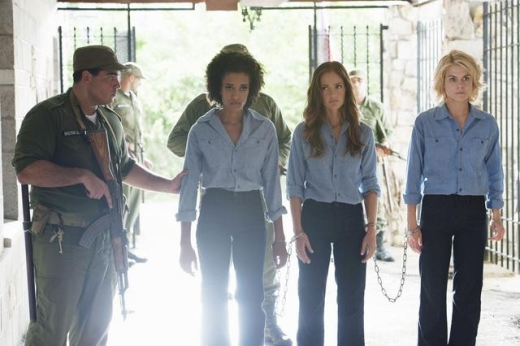 Special guest star Erica Durance (Smallville) played CIA operative and Bosley's ex, Samantha Masters. Does anyone else think Durance is more stunning than any of our current Angels? Is there any chance we can get her on the Townsend payrol? Probably not but one can dream.
Masters' arrival coupled with Eve's capture gave us a glimpse at a more serious Bosley and I have to admit, it was kind of hot. 
So what happened between Bosley and Charlie's daughter Elizabeth? All we know is that she ended up dead and Charlie doesn't appear to blame Bosley. It seems the rest of that intriguing arc will have to wait.
Back at the prison, having Eve try to protect Tess was a nice way to remind us that she's done her own jail time. For once, I was happy to say that Eve walked away with a couple of bruises instead of getting tortured without a scratch. I don't expect much reality from Charlie's Angels but a few nods to it here and there help me enjoy the show a lot more.
The look on the desk clerk's face when the Angels showed back up was priceless. I also enjoyed what Samantha's said when's considering sacrificing herself for Eve:
They have an entire wall for anonymous stars at Langley for people like me. | permalink
It was a welcome nod to the heroes out there in real life who actually give their lives to protect us, whose names we'll never know. That said, Samantha picked survival over nobility and I can't say I blame her.

Bosley's call to both use and then entrap the corrupt prison guard was a move I didn't see coming.

Elsewhere, I'm disappointed that Samantha is staying to work in Cuba but I liked her and Bosley's farewell. I was almost afraid she'd let him go without a kiss and that man earned one. Glad they didn't disappoint me.

In the end, I didn't get to see these Angels running in chains but this was the most entertaining episode of the show to date. Without a doubt.

C. Orlando is a TV Fanatic Staff Writer. Follow her on Twitter.

Tags: Charlie's Angels, Reviews