Desperate Housewives Review: Showing Up to Class Naked
by Christina Tran at .
"The Art of Making Art" once again reminded me how much I'm going to eventually miss my Sunday night programming. Filled with fun moments clearly made for snickering, this installment of Desperate Housewives was darn funny.
Each of our favorite women had much to deal with. From storylines focusing on snarky PTA moms, to entering the dating world after 20 years of marriage, there were few moments that did not make me laugh.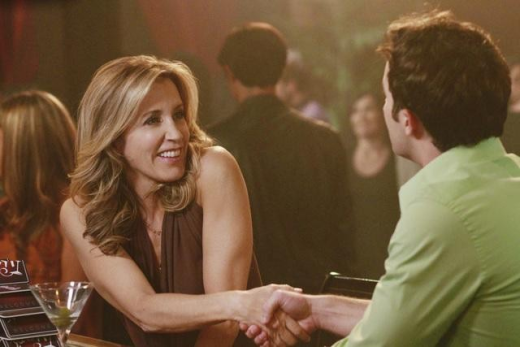 Likewise, Susan couldn't contain her giggles once the naked male model showed up in art class. Then, when her professor requested that all of the students paint in nude in order to paint from a point of honesty, she actually did it. Happy birthday suit to her.

To say she was mortified would be an understatement, as she realized the lesson plan had actually changed. Luckily, after coaxing from the art teacher, Susan's sticking with the class and I'm hoping that we'll see more of her and the intriguing teacher.

By the way, how funny was it when Lee appeared at Susan and Mike's doorstep with Bob's mother? I loved their immediate facial expressions and the cutaway to Mike chuckling away.

On another note, I know that Mike meant well by pushing Carlos away, but I just wished he hadn't. It was obvious that Carlos was distraught and hitting rock bottom. Even if Mike wanted to protect Susan, he could have offered to listen, regardless of the severity of what happened.

If I'm not mistaken, they were once good friends and Carlos even gave Mike money in time of need. And I completely understand the difference between borrowing money and murder, but it's just still disheartening to see how Carlos is suffering. I just expected that his real friends would have been there for him despite the circumstances.

Gaby, as clueless as ever, thankfully recognized that she needed to be there for Carlos. I'm glad the other PTA moms gave her a break when they all witnessed a completely sloshed Carlos. Does this mean that it's already the end of Gaby's reign as PTA President? Remember when I said I'd give it only one week, tops? That was, yes, a week ago.

Meanwhile, Tom admitted that both he and Lynette have not been happy in a long time. The therapist asked a simple but beckoning question as to whether or not they were trying to get back together or gracefully end their marriage. Tom confessed that he wanted to explore his options and continue dating, which pushed Lynette back into the dating world hereslf. After one kind of sort of disastrous night where she nervously broke down to a complete stranger, it was apparent that Lynette was simply not ready to let Tom go.

It's certainly going to be interesting watching Lynette fight for her marriage, while Tom seems to be reluctant about getting back with Lynette... at least for now.

Elsewhere: It was nice to see the Reverend back in dire need for Bree's homemade goods. Even better, Bree's soup kitchen to soup bistro experience allowed her to work with Ben. And I'm all for finding out more about him. I still think that there's more to his story than wooing Renee and servicing the community.

Lastly, what happened to Chuck and his missing people's files that were hinted last week? What do you expect will happen with the near groundbreaking at Chapman Woods? It can't be too long until someone discovers Gaby's stepfather's body and what happened. I can't wait to find out!

For a look ahead to next week's Halloween-themed installment, view this official trailer.

Tags: Desperate Housewives, Reviews
From Around the Web