Ka Hakaka Maika'i: The Good Fight.
Now that all the members of Five-0 are back together, we got to see them get their fighting on on "Ka Hakaka Maika'i," as they were faced with a murder during a home invasion.
It was back to business as usual for the team, from Steve going toe-to-toe with MMA champion Chuck Liddell to watching the now five-person unit take down those robbers - and business was good!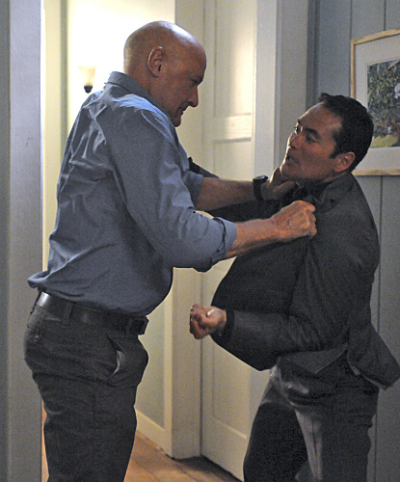 Watching our heroes go at it with these antagonists was one of the best actions scenes we've been treated to this season. It was nearly perfect, but one had get away, of course. Enter the requisite chase scene!

This happens so often, my wife has started keeping keeping track. Tonight the count was two: first the last home invader, then Boriero. 

Elsewhere, we got a visit from Wo Fat, or rather Joe White got a visit. You have to admit, White held his own pretty well, given Wo Fat's history. On the other hand, I'm sad that Mokoto is dead, he seemed like a gentle old man and really didn't deserve to die the way he did.

Did you agree with Joe that he and Steve asking questions go Mokoto killed? I don't. I'm with Steve. The responsibility lies with the Wo Fat, as he made the choice. 

I have a question for the anti-Lori TV Fanatics, too: What do you think of how they started reshaping her character? Did you notice she was never "dressed up" (ditching the sexy business woman look) and was actually showing a strong tom-boy side when she talked to Steve about sparing with her ex-boyfriend when she learned MMA and Judo? 

I'm pretty lonely in the "I ♥ Lori" club, but it looks like Alex Kurtzman and his team were working hard in this episode to bring a few more converts over. I've said it before, I have no complaints with her joining the team; she has added a strong element with her profiling background and she prevents Kono from being the only girl. That's "win/win" in my book.

That said, it was disappointing that the show stuck with its current trend of advertising a guest star and then only featuring one scene with him/her. This week we got to meet Agent Kensi Blye (Daniela Ruah) from NCIS: Los Angeles. She clearly had a history with Joe, which I had hoped meant we would see her for more than three minutes. Alas, it was not to be.

In the end, with Wo Fat back on the war path and Steve having learned a bit more about what his father was talking to him about, I suspect Joe and Steve will need to be a bit more careful.

Whatever comes at Five-0, however, it will be nice to see them all face it... together.

Jim G. is a TV Fanatic Staff Writer. Follow him on Twitter.

Tags: Hawaii Five-0, Reviews