"Eastern Exposure" wasn't my favorite episode, but I really enjoyed the interpersonal interactions between the characters, getting to know Ted a bit more and how well the show included an historical moment in a way that made sense to the overall story.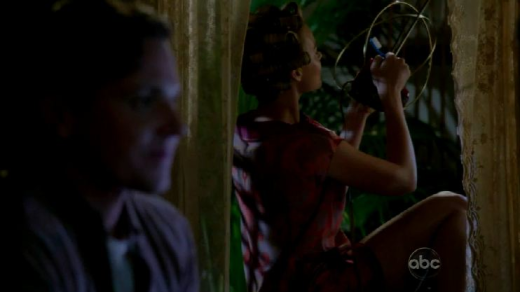 Ted gets a back story.
We finally learned something about Ted this week, other than his desire to be thought of well by the stewardesses. During his stint in the Navy, he was held responsible for an air crash that he considered equipment failure.
He really needed character development, and this was a perfect story to explain his jealousy of Dean, his love of flight and why he hadn't yet moved past co-pilot. Being unjustly discharged from the Navy was a travesty considering his father could have stopped it. It also explains why he so lightly brushed off Maggie's assault a while back - he had a horrible role model as a father.
I loved how they inserted the historical Mercury 9 flight to help drive his story home. He had dreams of joining the space program, but unless his father stepped in and told the truth about the equipment failure, he never had a chance. As Laura tried to find her way without her sister, it worked that they were in the historical moment together.
Girls just wanna have fun!
Laura was ready to branch out on her own this week, and leave her sister behind. She found all of the fun that Maggie offered to be just what she needed, and together they lit up the town of Jakarta.
I liked them enjoying their travels. After all, the job has an end. At 28 their career will be over, so why not enjoy every moment as they can. Again, I loved the costumes and undergarments and the overall feel of 1963. I don't care what anyone else says, it's almost as good as being there.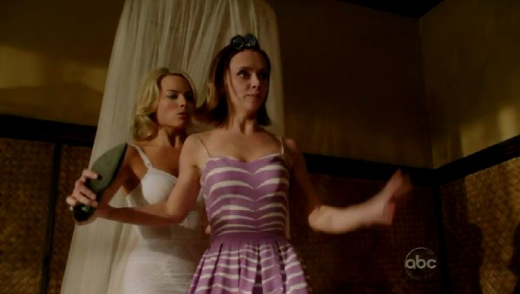 Sibling rivalry takes to the skies.
What seemed like a simple case for Kate turned into quite the ordeal as she almost blew it. Her mission was simple, deliver a camera from Rangoon to Jakarta. Except it was a camera! Laura took it out to take photographs and when Kate returned to a ram-shackled room, she assumed the worst.

Frankly, do did I. While my logical mind said Laura took it, I still thought the room was combed over by some thugs. It was just a very messy Laura's way to get dressed for night on the town.

Friends in the end.
After very closely diverting a landing disaster, Ted finally had enough of Dean and punched him in the face. That punch forced Dean to fess up about how he jumped the seniority cue to make captain (a shout to all of you who said real life pilots were much older; the anomaly was explained).

It turned out Dean just had great timing. He was stuck in the elevator with the founder of Pan Am and rolled the dice. Nice reference to the history of the company, and it made sense to me as a viewer. What more could I ask for?

Kate had a chat with her CIA handler when he suggested he would get Kate and Laura split to different crews. In the end, Kate realized the love she has for her sister, and even bought her a camera to make up. But, when she got home, Laura had moved out and in with Maggie. That should be a fun time, Laura is hardly a beatnik! How will this affect the sisters going forward?

I'm still loving Pan Am for what it is: A walk down memory lane, to a time when the jet age was just starting, when seeing a rocket take flight to outer space on television was about as technologically advanced as we could imagine.

Maybe I yearn for those times because I didn't live them. My mom sure hates to think back. And, really, could I live without my smartphone? Probably not. I just hope we get to find out what all of these new developments mean with more episodes of Pan Am.

Carissa Pavlica is the managing editor and staff writer for TV Fanatic. Follow her on Twitter and on Google+.

Tags: Pan Am, Reviews