Was Jake Armstrong a welcome addition to The Secret Circle? Will happen with Cassie and her crystal? What about Cassie and Adam?
In the following edition of the TV Fanatic Round Table, senior staff members Matt Richenthal, Eric Hochberger and Steve Marsi delve into the latest episode of this CW thriller. Sidle up and chime in...
~~~~~~~~~~~~~~~~~~~~~~~~~~~
What was your favorite scene from the episode?
Matt: When the credits rolled? Sorry, that's extreme. But this episode was especially slow, which is a backward compliment at least: I've come to expect a lot more!
Eric: Well, this episode definitely lacked some of the scary, dark elements that made me fall in love with it over the last two weeks. So I guess the closest thing was Simone hiding in the shadows. Weak sauce, comparatively.
Steve: Matt alluded to this in his review, but the overall honesty of Diana. Her reasons for dumping Adam were pure and, heck, she even went over and spilled her heart-broken guts to Cassie. It's an unusual, welcome surprise to have such raw emotion on a teen soap opera. Might Diana really be this straightforward of a person? Or she hiding something still?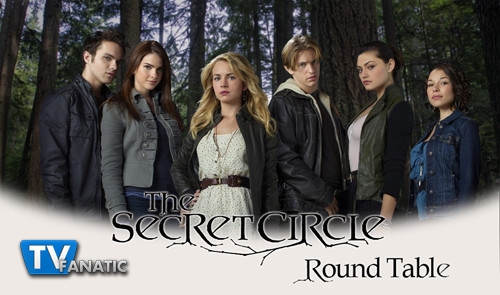 What was your first impression of Jake?
Matt: Not good. Let's just say it made me miss Marissa on The OC, which is an old reference, but an appropriate one. I just don't care for him. (However, I can put a positive spin on it: I'm intrigued by the concept of witch hunters in general. Just not this one in particular.)

Eric: A walking bore and a very sad replacement for Nick. Not that Nick was that developed, but he was far less stiff and robotic as an actor. It probably didn't help that he had freakiishly flawless skin caked on with makeup. Speaking of a lack of scary scenes, that might have been the scariest part of the episode.

Steve: Give the guy a break, fellas. We aren't meant to like him at the moment. Was he a bit stiff? Yes. But maybe that's more of the character being guarded and he'll become more natural as he becomes more comfortable with those around him. You know, before he tries to kill them.

Should Cassie and Adam start dating now?
Matt: No. That would just be insensitive to Diana. A little bit of making out on the down low, though? Sure, go for it, kids!

Eric: This early on? No way. Unless you want them to break up in a few episodes. We need the classic will-they-or-won't-they that has made me a TV Fanatic since I first met Ross and Rachel.

Steve: Yes. That would only be fair to Diana. As we've discussed, considering how honest she has been with Adam and Cassie, they should show her the same respect and be open with their feelings.

More likely to occur: Charles confesses that he killed Nick, someone learns Cassie has her crystal or Faye has another mental breakdown?
Matt: This may be more of what I want to occur in the near future, but going with Charles reaching a breaking point. The relationship between him and Dawn is getting more precarious by the week and I can picture him actually confessing to Ethan at some point and really stirring this older generation pot.

Eric: Easily someone learning Cassie has the crystal. Silly girl just held it out as she used it. It's a freaking prized, hidden possession you can use buried as long as you're touching, not a damn gun you gotta point. Keep it in your damn pocket as you use it. 

Steve: Isn't Faye a perpetual, walking, talking mental breakdown? I agree with Eric. Cassie is not taking good care of that crystal.

Tags: The Secret Circle, Round Tables