Welcome to the return edition of the Glee Round Table!
After far too long of a hiatus, this Fox hit introduced us to a new foreign exchange student on "Pot O' Gold," while also causing some major waves in school (so long, Britt and Santana!) and at home (Shuck? Really?!?). Come along with Matt Richenthal, Chris O'Hara and Steve Marsi now as they analyze the latest installment in the following Q&A...
What was your favorite scene?
Matt: I'm a sucker for Brittany. I enjoyed the entire opening when we learned that she thought Rory was a Leprechaun.
Chris: Had to be the look on Sue's face when she saw Burt sitting in her corner seat. Whether it's pitching Time Warner Cable or sticking up for the arts, I could listen to this man talk all day. He should switch from fixing cars to selling them. Burt could make you feel comfortable about buying a Delorean.
Steve: The hallway confrontation between Burt and Sue. What fun candidates! Is it wrong for me to say I'd vote for either of anyone in the current GOP field?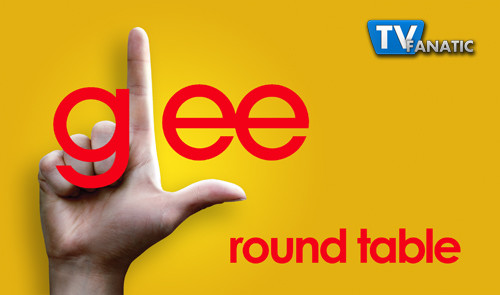 What was your favorite song?
Matt: Blaine taking the lead on "Last Friday Night," partly because of how he introduced it by saying the Glee club has to get back to having fun. Agreed, B!

Chris: Puck's rendition of Foreigner's "Waiting For a Girl Like You." The performance was classic Puckerman, but also, given the circumstances, I thought it a very nice twist on the title's meaning.

Steve: Both good choice, gentlemen. But "Candyman" made me question my loyalty to New Directions. The girls were that good!

What was your first impression of Rory?
Matt: It was a bit too much of him too quickly. Just appearing on screen right away? Getting a solo within a few minutes? But I'm all for new blood, especially considering all the Irish-related puns I'll be able to make going forward.

Chris: Initially I wasn't feeling too much sympathy for Brittany's "Pet Irish," but he definitely won me over with his second song, "Take Care Of Yourself." His range was pretty amazing.

Steve: Confusion. Like Brittany, I had a lot of trouble deciphering the words coming out of his mouth. And I really don't want to go through another Kurt-like bullying storyline. But let's give the young man time.

What would you name the all-girls group?
Matt: The Shelby Sharps.

Chris: Oh man, this is a fun one. Off the top off my head, The Estro-Janes? How about Two Non Blondes, Sister Act or Unsilent Femmes? Boys on the Side?

Steve: The Newer Directions.

Shelby and Puck: Cool, or EWWW?
Matt: Cool for now, EWWW if it goes any further. I absolutely buy why these two would grow so close. And, hey, we've all kissed someone inappropriate, right? Let's just keep the clothes on, people.

Chris: I can't lie, I was all about Puck being Shelby's "candyman." She deserves some love and excitement and, as for Puck, he is a lucky teen because no one can argue against the sharpness of her cougar claws.

Steve: Can't say I want these two to really hook up, that seems wrong. But compared to Quinn's plot to get her baby back? It seems totally right! Seriously, that's more messed up than Teri's fake pregnancy.

Tags: Glee, Round Tables