Happy Endings Review: Adventures in Babysitting
by Leigh Raines at .
How well do you know your mailman? Probably not as well as he knows you! Indeed, Brad and Dave received a rude awakening on mail privacy in "Full Court Dress."
While these two got bogged down by Brad's overly friendly mailman, Max got saddled with his niece and nephew. While this doesn't seem as bad as getting a Q-tip stuck in your ear, for Max is was torture. Good thing he had Aunt Penny to come to the rescue!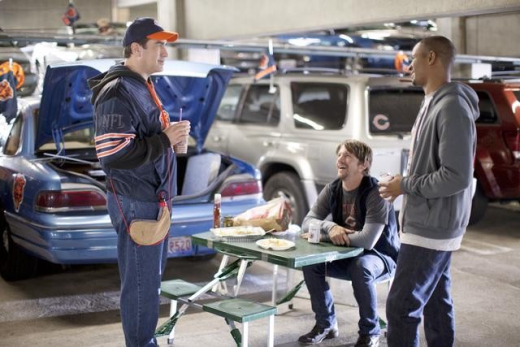 Or so he thought. I never believed it was possible for someone to not think Penny was ah-mah-zing, but I guess when you bring kids to a creepy doll museum, that's what happens. Did anyone else cringe when she read about the dolls being made with real human hair and teeth? I still have the heebie jeebies!

Nature's babysitter and playing Diner turned out to be a lot more fun. I used to make my brother sandwiches all the time as a kid. And when my nephews are old enough, I will totally pass on that tradition to them.

Plus, wouldn't you be impressed if your Uncle got you free tacos because of his tattoo? Okay, well, as a kid that would have impressed you. Besides, Max's side boob rocks.

It's always the babysitters that try too hard that creep you out. It's also the mailmen and new friends who try too hard. I can't speak ill of the dead, though. May he rest in piece. And may his family never know that the group scattered his ashes by accident instead of the ashes of a hideous dress.

How bad do you think Alex's creation was? Was Jane too hard on her? Lastly, who would you rather have for a babysitter, Penny with her kick-ass Beyonce puppet or Max with his kick-ass tattoo? Hit the comments and don't forget to check out our favorite quotes!

Leigh Raines is a TV Fanatic Staff Writer. Follow her on Twitter.

Tags: Reviews, Happy Endings
From Around the Web