It's Always Sunny in Philadelphia Review: Beefcake Avatar
by Arlene G. at .
We finally learned "How Mac Got Fat" when the Gang tipped the scales with their ridiculous antics this week. Apparently it's true that you should never go into business with your friends because not only will your friendship be ruined but your waistline as well. At least that's how Mac explained away his expanding girth.
Paddy's became ridiculously successful. The reason? Who knew?!? Frank put it best when he said "What the shit is going on around here?" We never did find out what exactly made Paddy's all of a sudden "the place to be" but it created monsters out of everyone.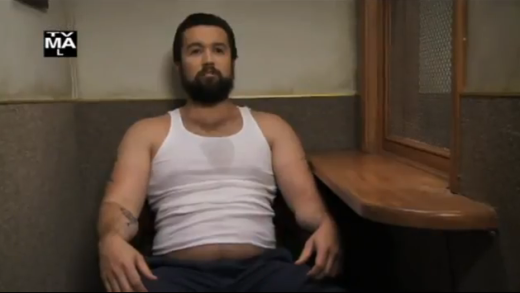 Dennis literally became a monster. With his jet-black dyed Superman hair, peeling face and gigantic ego, his quest to maintain his supposed "perfection" before the eyes of the Gang caused him to end up sniffing turpentine and watching Charlie do a herky-jerky dance in the back office. Can we just have a scene like that in every episode please?

The way Dennis looked at Charlie was beyond hilarious. His mesmerized look while Charlie did his robotic dance (just what the hell was that?!?) made me spit out my drink. And let's not even get into Charlie's obsession with the crevice.

The rest of the Gang got drunk on their success. Charlie became the one in charge at the bar and nearly poisoned the customers. Dee just annoyed the customers with her constant bad comedy routines. And Frank attempted to come up with a scheme that would make the bar even more popular before Paddy's reached the tipping point by hitting Charlie with a stick over and over.

The point of delusion was reached when Mac thought his "replacement" resembled him after a good "pump." Desperate to prove that Musclehead really was his avatar, Mac started eating like a crazy man. Hence the obsessive eating thoughout the entire season, the chowdown in the confessional and the candy spilling out of his pockets.

I especially loved how they went "back in time" when Mac (and the rest of the Gang) was thin and young. When did they film this? Was this in the works years ago? There's no CGI on Sunny, folks. Kudos to Rob McElhenney for going so far to create a good laugh. I love Fat Mac. To see him trying to bust out of a wifebeater shirt was classic. Christian Bale take note.

I thought I'd need a Depends by the time the episode was over. Now if THAT isn't the sign of a truly funny episode, I don't know what is.

Don't let success ruin your good times. Satisfy your palate and gorge on some Sunny quotes.

Tags: It's Always Sunny in Philadelphia, Reviews
From Around the Web