Terra Nova Review: A Problem With Procedure
by Dan Forcella at .
I'm having a tough time reviewing Terra Nova because it's not the show I thought it was meant to be. I'm not even sure it knows what it is, or wants to be.
The series seemed to start out as some version of a serialized science fiction drama. Then, for a couple episodes it tried to be a family drama wrapped in a dinosaur-filled world. Then there was "The Runaway," which seemed to be some sort of spy thriller, and this week's "Bylaw" felt very much like a police procedural.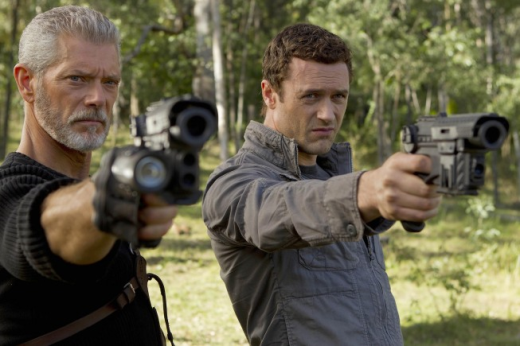 I don't watch a lot of cop shows (The Mentalist and Hawaii Five-0 are the exceptions), but it didn't seem like this was a terribly bad episode of this genre. They did a decent job at keeping the identity of the killer under wraps until the end, and the setup by Jim and Taylor was nice, but early on it was blatantly obvious that it wasn't going to be the dude who confessed.

I'm not a procedurals guy due to their structure alone. I watch the the programs above for Simon Baker and the Alex O'Laughlin/Scott Caan duo, respectively. If the overarching story isn't going to be all that compelling, I need the characters I'm watching to keep me interested. But Terra Nova is yet to exude those type of compelling, or even just humorous, individuals.

Thankfully, the show has kept one intriguing long running storyline going. The fact that it deals with the teenage angst of Josh, and his goal of bringing his girlfriend to Terra Nova, concerns me, but at least it's something to grab a hold of.

It's something to keep me interested while I watch generic murder stories. Well, I guess generic is a stretch seeing as that this man was killed with a dinosaur! But I'm still interested, and the Mira and her Sixers are a big part of that.

Mira and her Someday I'll ask something of you and you'll comply without question was very reminiscent of every mob boss in every gangster movie ever, but that doesn't mean I'm not still curious about what she'll ask of Josh at some point in the future.

I am. But even more than that, I'm always interested in viewing a good old fashion dinosaur chase, and that's what we were treated to in "Bylaw." That chase, and Taylor's speech to the colony about banishing the man that confessed, were my two favorite moments of the episode. I haven't been a very big fan of Stephen Lang's Taylor thus far, but he nailed the emotion there.

Now if only Terra Nova could nail everything else, we might have a better show going on here. For now, it's still intriguing enough. Just enough. What about you? What has worked? And what hasn't?

Dan Forcella is a TV Fanatic Staff Writer. Follow him on Twitter.

Tags: Terra Nova, Reviews
From Around the Web