The latest installment from Up All Night, "Week Off," was anything but in terms of story line or entertainment.
Reagan calls the shots at Ava's show, but Chris is master of the house at home and was more tolerant than I would have expected, putting up with his wife's nitpicking. He did very well, though, to explain his right to keep things his way at home by having given up his law career to help raise Amy.
Heck, Everyone needs a junk drawer in their life, right? Chris and Reagan's sock fight was adorable and only made better by Ava's commentary.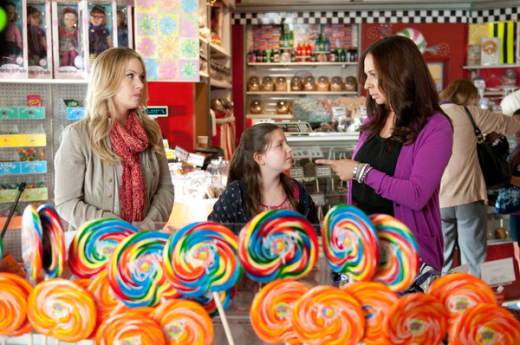 I was glad to see Kevin and his daughter, McKenna, back. It was interesting to see how Ava reverted to showing off her wealth when she found herself nervous around Kevin and his child. McKenna's personality went south, as well, as she was burdened by her upcoming performance. Ava revealed her most embarrassing performance ever and helped instill some much needed confidence in McKenna. She showed that rare ability to go from comedic to caring in an instant, not unlike Barney Stinson on How I Met You Mother. 

Kevin was a little insecure about his voice around Chris, but who wouldn't be? The scenes where he tried to match Chris's masculine mumblings were great. I also liked the nod to the madness that is American Girl when, at the store, (which resembled the aforementioned retailer mixed with a Dylan's Candy), Chris remarked how in addition to everything else, they probably offered a doll coffin for sale.  

It was a little strange that Reagan just all of a sudden noticed her husband's organizational skills or Brendan Shanahan, for that matter, but she is awfully busy at work. 

It was not the best episode of the season, but another solid performance from all the main characters. Enjoy the holiday and if you do go to a store with those candy drawers, remember: at some point there is a line between sampling and stealing. You will be tempted to cross it.

Tags: Reviews, Up All Night