Carrie: You wait, you lay low and then you come to life.
Those words, uttered by Carrie Mathison in her fit of manic insanity during "The Vest," like most of what she said during that stretch, were absolutely brilliant.
Yes, the plants in the garden are definitely going to live by Carrie's law, but she was also correct in metaphorically comparing said plants to Abu Nazir and his terrorism plot. Ironically, and unfortunately, it also worked to explain Carrie's bi-polar disorder and its effect on her job with the CIA.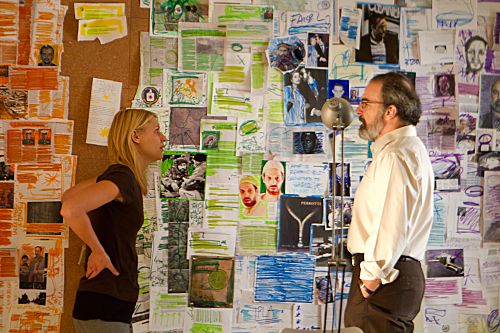 As sad as it was to watch Carrie spiral out of control, it was just as entertaining to watch her work (mostly the demand for the green pen), and just as interesting to realize that she was nailing Abu Nazir's plan down to a "t."
What she was missing, however, was the "i," as in Issa. The only missing ingredient from Carrie's timeline, which Saul so perfectly organized on the wall, was the period of mourning after Nazir had lost his son. If she could have only put the pieces together that Brody was just as heart-broken as Nazir, maybe this whole thing could have been solved.
But no, Brody put an end to that idea with his phone call to David Estes. The good sergeant is Nazir's plan "coming to life." He waited, he laid low and now he's coming to life... or death, depending on how you look at it.
He went to get the suicide bomb vest, and he made a lot of heartfelt speeches to Chris and Dana, but I'm not convinced that he retrieved the vest for himself.
It's a little too obvious at this point. They kind of hit us over the head with the idea that he was making his last moments with the family count, and if we've learned anything from Homeland so far, it is that it doesn't enjoy being obvious.
Where does this show go without Brody? If he murders himself in an attempt to get back at America, what does Homeland's second season look like? Even if he attempts to go through with it and fails, is there a place for a character like that? He would most likely be put away forever.
I still hold out hope that Brody was just getting the vest for someone else to blow themselves up in, and all of his speeches to the kids were just because he was heading off to Congress for awhile.

Similarly, Carrie's disease has also played itself out like the pulled quote at the top. She has managed to keep her problem hidden from everyone in the CIA for a very long time. After the bomb, and everything going on with Nazir, she had to finally come to life.

Her mania begets brilliance at times, as was exemplified by the colorful timeline of Nazir, but it also causes Carrie to do stupid, stupid things. Allowing her civilian family members to see classified documents, and calling Brody for a secret rendezvous were the acts of stupidity in question here.

Yes, she was right. Brody could have helped Carrie fill in the blanks of the yellow part of the timeline. Unfortunately, he didn't want her to do so, and turned her in for their affair and her illegal surveillance work at the beginning of the season. She seems to be out.

Which brings up a question not unlike the one posed about Brody: where does this show go without Carrie working at the CIA? Sure, it's much more plausible than a Homeland without Damian Lewis, as Carrie could still do her job as a rogue agent, but it's definitely a much more difficult series to make.

For now, we have to come to grips with the fact that there is only one episode remaining in this fantastic first season of Homeland. The obvious questions still exist - Will Brody use the vest? What will Carrie do now? Will Tom Walker succeed? - and here are a few more: Will Dana figure out anything because of how weird Brody has been acting? What did Brody and the bomb maker say to each other in Arabic?

What have you, TV Fanatics? Did you enjoy "The Vest" as much as I did? What are your predictions for the season finale? And what will season two look like?

Dan Forcella is a TV Fanatic Staff Writer. Follow him on Twitter.

Tags: Homeland, Reviews