TV Fanatic's Midseason Report Card series continues today with another comedic favorite.
As our staff looks back at what worked this fall and looks ahead to what we hope to see in 2012, our critics have handed out a B+ for Revenge, a B for Desperate Housewives and most recently, an A for New Girl.
Next up, Nick McHatton breaks down Parks and Recreation in all its hilarious glory ...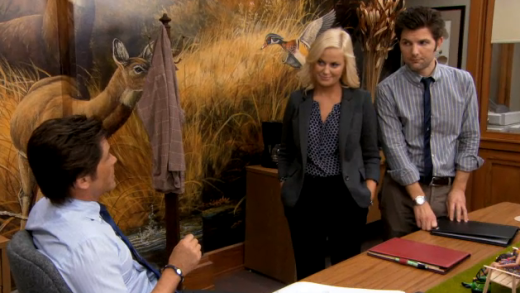 Best Character: Even in a cast as well rounded as this one Amy Poehler continues to shine as Leslie Knope. Poehler easily moves from funny to physical to serious and everything in between. Leslie is the person we all strive to be: hard working, compassionate, funny, and relatable.

Worst Character: Tom. Most of my general disdain for him has to do with the noose that was around his neck for most of the first half of the season: Entertainment 720. It took everything likeable about Tom and shoved it to the wayside, while putting a premium on his unlikeable qualities.

Best Episode: The first half of the season has been wonderful, and this was truly a very hard choice for me. That being said I'm going with "Smallest Park'" even though it's slightly lower rated than "Treat Yo Self." The moment in the park between Ben and Leslie, and their willingness to put everything on the line, was one of the greatest moments of the show.

Worst Episode: "Ron & Tammys." While it's not a bad episode by any stretch, it is the weakest one of the season so far. The Leslie moments with Ron were fantastic, but there were too many E720 scenes, and saddling even the dry and funny Ben barely elevated that plot to bearable.


Most Interesting Development: Leslie polling at 1% after her scandal. It's such a unique way to get the entire Parks Department in Leslie's corner and out of the cheering squad. It's absolutely brilliant.


Biggest Surprise: Ben and Leslie deciding to go for a relationship after breaking up in the beginning of the season. I felt for the story it was a good decision to split them apart because the obstacles between them, while not great, were good for the show since their romance came together quickly in the prior season. Their split gave us the chance to root for them coming together, again, and see them have some time with the rest of the cast.


Hopes for 2012: I don't have many; Parks has been on a roll creatively so far. I hope its ratings can improve a little bit, and hopefully they will with 30 Rock as a lead in. The one thing I do hope to stop is this need for some characters to be off in some other job, so far it hasn't worked, and I don't have much hope that Ben looking for a job will pan out if he's hired outside of the Department.

Overall Grade: A-

Nick McHatton is a TV Fanatic Staff Writer. Follow him on Twitter.

Tags: Parks and Recreation, TV Fanatic Report Cards