TV Fanatic's Midseason Report Card series continues today with a breakout comedy hit.
Recently, as our staff looks back at what worked this fall and looks ahead to what we hope to see in the coming months, our critics have handed out a B+ for Revenge, a B- for Supernatural and a B for Desperate Housewives.
With that in mind, Kris Hekmi breaks down Fox's New Girl in all its glory ...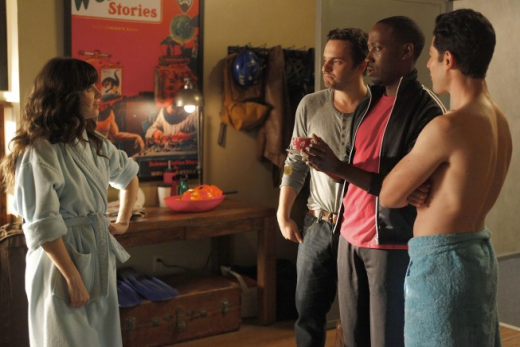 Best Character: Schmidt! That crazy goofball has completely endeared himself to me. While New Girl often had a hard time balancing Jess' adorably vs. quirky sides in parts, Schmidt has always been the consistent source of comedy. He's earnest, with a douche edge, but so gosh-darned likable despite it all. I am often found rolling in laughter because of him or plot points surrounding him.

Worst Character: Winston. It's not really fair to the character as he was brought in after a solid pilot, and it took the creators a few episodes to find out where he fit. He's improved since then, but it is what it is.

Best Episode: "Thanksgiving," but this was a hard decision to make. I have to give kudos to runner up, "Bad in Bed'" but "Thanksgiving" had the overall appeal. It had a frazzled Jess who's being all cute in trying to win a guy over, it had Schmidt doing what Schmidt does, it had Justin Long who's been such a great addition, it introduced turtle face, and it even had a twist in the end. The double budding romances here (Schmidt/Cece and Jess/Paul) gave it that extra push to the forefront.

Worst Episode: "Nick is Naked." Jess was way weird here, and insufferable, and a terrible roommate. Hard to see the adorable part in her character.

Most Interesting Development: Overall the most interesting thing about New Girl so far is how well they've developed not just Jess, but everyone. It was on a great rhythm after only a few episodes in my opinion.

Biggest Surprise: The biggest standout is Schmidt. It's a comedy, and it's a freshman comedy so there hasn't been a lot of surprises in the plot so far. Episode-wise, I got a big surprise when their neighbor turned out to be dead in the bathroom next door in "Thanksgiving."

Hopes for 2012: They're on a great course so far. I hope they do what they keep doing. Keep Jess tempered and everything else should be fine. I hope they explore other locations outside of the apartment. Find a way to give us more of a peek into Jess' world in school. They should realize that Winston being jobless gives them an opportunity to show him trying many different temp jobs, giving them a source of so much potential hilarity. My 'shipper side also wants to see some more romantic tension. There's a potential for a lot of triangles there, but I also appreciate a slow progression in those terms.

Overall Grade: A

Tags: New Girl, TV Fanatic Report Cards