Desperate Housewives Review: More Questions, No Answers
by Christina Tran at .
It's hardly news that Desperate Housewives is in its final season, and, for that reason, I find myself wanting every episode to be incredibly amazing. Unfortunately, "Who Can Say What's True?" fell more on the boring side of things.
Although funny at times, an installment such as this one reminds me that it's just time for this iconic show to end. Lately, it feels like the Fairview residents are running out of stories to tell.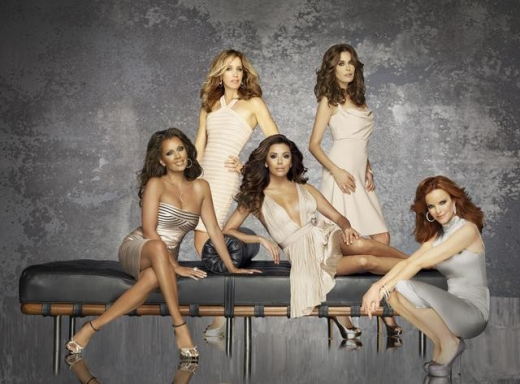 There was hardly any resolution this week, while the mystery continued to unfold and we were bombarded with even more questions. Let's discuss what went down…

While Susan nonchalantly wrote a check to Alejandro's wife, I had the feeling that it was a terrible idea. Actually, it was a terrible idea before that, when she thought visiting the family was a good plan.

On one hand, I was glad that Susan reached out to Marisa. However, thanks to Susan, the Alejandro dilemma will now be far from over. Who's guessing Alejandro's wife will show up on Wisteria Lane in the near future?

With Susan out of town, Mike kept himself busy, discovering some inconsistencies with Ben's real estate project. Ben has always been kind of shady and mysterious to me. I feel like we know so little about him as he plays the disappearing act incredibly well. There have been a number of episodes where he has been MIA with no explanation whatsoever.

It's a shame that he's now motivated and invested in his relationship with Renee simply because he found out about her money. I am dying to know what Ben's intentions really are.

Meanwhile, I can't say that I cared too much for Bree's girls' night out with Renee. However, what's much more interesting is the person who was creeping outside her house and following her around at the bar. My guess is that Orson is back in town and will pay a visit to Bree very soon.

It'd make sense if it was him, as Bree definitely needs help and some light in her life. Orson could give that to her and get her back on track. By the way, where the heck has Andrew been?!?

One moment I definitely appreciated was the one between both Lynette and Gaby. With the man of the house out of sight, both housewives faced obstacles that would have been simpler if Tom and Carlos were around. It was nice to see that they were able to put their differences aside and be there for one another.

While it was funny watching Gaby scramble at the restaurant with Carlos's clients, it wasn't as much fun watching Lynette nearly break down to her kids. It's been a tough number of months for Lynette, but she has been such a fighter. Regardless of her circumstances, she's trying her best to be a single mom. Tom and Lynette's storyline has been anything but easy to watch, but I'm truly enjoying it as Lynette continuously faces challenges relentlessly. Good for her!

Overall, this installment wasn't the strongest and left us with only more questions rather than answers.

Who do you think is following Bree around? What's up with Ben and the inconsistencies with his real estate project? Give your answers below and get an early look at next week's episode now!


Tags: Desperate Housewives, Reviews
From Around the Web