While I'm not entirely sure why NBC decided to make Paul Rudd such a big surprise in their promotion of "Campaign Ad," he blended so seamlessly into Parks and Recreation that it really didn't matter in the end.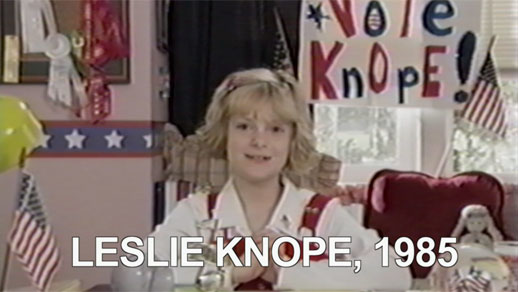 Rudd is the perfect "villain" for Leslie. Why? Because he's not actually a villain. Bobby Newport is just the well off, privileged son of Sweetums. He's not mean, or vindictive. Bobby has never had to work for anything in his life, other than saying "please." He's in uncharted territory with Leslie and isn't sure what to do. Which is why he's so charming and likeable.
And, as much as I would love to see Leslie get a little mean and play some dirty politics (which could still happen, who knows!), it's better this way. Leslie is funnier when she's trying to accomplish everything on her to-d- list with supreme positivity and happiness: Like stopping global terrorism, formally recognizing South Korea, forming a better Better Business Bureau and enacting the Raccoon Relocation Project.
Did I mention she's not afraid to pull off the flying tackle? Put a ring on it already, Ben!
April and Andy continued their magical adventures into the world of adulthood by finally visiting the doctor(s), so they don't have to come back "for like 10 years." Because going to the doctor is like going to get your car tuned up!
I love the subplots that let April and Andy just be themselves without any adult supervision. I'll have to go back and rewatch and decide if Andy's multiple injuries top last week's hilarious ice rink slapstick, but watching Andy sneeze his face into a wall while hanging his award was still a momentously funny bit. As was his running into an ambulance.
The Ron and Chris subplot I'm still wondering about because it offers plenty of future storytelling possibilities, but it was mostly flat for this week. Except for Ron wondering how on Earth he got from city hall to lunch with Chris, and it was even better because as an audience we were wondering the same thing.
As for the future possibilities, I like the idea of Ron enacting his ideas of government in a position that grants him those possibilities because it has the potential to expand our merry band of government employees as well as Pawnee citizens. But at the same time, this is Ron, he'd much rather hide out in his office. Unless they're up for tweaking the Ron Swanson formula. But how does one improve on greatness though?
Overall, "Campaign Ad" was another fantastic episode of Parks and Rec, I just wish NBC name-dropped Rudd to try to boost viewers.

Other thoughts:
I love that the hammer is now permanently in Andy and April's wall.
Ron's automatically closing office doors make a comeback!
Ben, Jerry, and Tom can narrate a campaign ad for me anytime.
What did you think of the episode? Was there a particular promise of Leslie's that you loved? Tell us in the comments and be sure vote on some of our favorite quotes from the episode!

Nick McHatton is a TV Fanatic Staff Writer. Follow him on Twitter.

Tags: Parks and Recreation, Reviews
Want more Parks and Recreation?
Sign up for our daily newsletter and receive the latest tv news delivered to your inbox for free!
More From TV Fanatic
Power struggles ensue all around Chester's Mill on Under the Dome. Lives will be put on the line.
Scott decides to get tough on Teen Wolf after rescuing his Beta by declaring he won't sit back and watch more deaths. Find out what else went down in the review!
Heather and Tamra consider making peace with Shannon on The Real Housewives of Orange County. See what went down in our TV Fanatic review!
On Murder in the First, the trial of Erich Blunt reaches its conclusion. But what is the verdict? Find out when you read the review.
---