Desperate Housewives Review: Welcome Back, Julie and Orson!
by Christina Tran at .
I liked "Is This What You Call Love?" for a number of reasons, starting with the emotion at the forefront. Really, what was there not to love?
Like Mary Alice said, love has the possibility to bring out the best in us. Whether it was the confidence that Lynette needed, the courage for Gaby to tell Juanita the truth about Carlos or even the hope that Susan wouldn't give up on Julie to change her mind, love was more powerful than ever on Wisteria Lane. In fact, it's not always about what love brings out, but who it brings back, as Orson is finally back to rescue Bree. More on this later, though.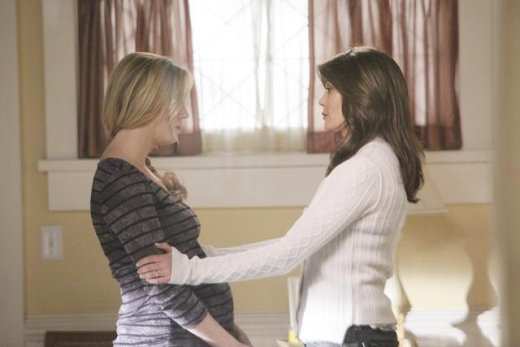 It appeared that Lynette was the very last to know that her marriage was over. Kudos to her for finally being able to accept it and trying to seek the happiness that she deserves. I must admit that I didn't really care too much for Frank at first because I want Tom and Lynette to ultimately get back together. However, he does seem like a genuinely decent guy, and I'm all for him making Lynette cry less and smile more.

Meanwhile, it was certainly nice to see Julie again. With a bun in the oven, her storyline with Susan was a bit predictable, but still enjoyable. I get where Julie is coming from, wanting to give her baby up for adoption, but I also understood why Susan reacted the way she did. I also couldn't help but notice how MJ was missing again. You'd think that he'd be there to see his sister.

Another sibling who was missing was Celia. Seriously, where did these children go? Anyhow, I thought that what Gaby did for Juanita with the special Valentine was sweet. Better yet, I'm glad that Gaby realized that Juanita was much stronger than she thought and was able to tell her the truth about Carlos.

My favorite part of the night was the intervention gone wrong. While our favorite housewives lashed out each other, I was just glad they were all finally in the same room with one another. It was intense when Bree confessed to nearly committing suicide. Though the others were quick to apologize and wanted to be there for Bree, she just wasn't ready to forgive them. Thankfully, the girls of the Lane did the right thing and called on Orson, concerned about Bree's drinking and bed-hopping.

On another note, how awesome was Orson and his taser? I was relieved that he showed up in just the nick of time to save Bree from that horrible jerk. Hopefully, he can help Bree get back on her feet and the two can maybe go back to doing what they do best: cleaning up each other's messes.

Are we to assume that it was Orson all along who has been lurking in the background watching Bree's every move? If so, why has Orson been stalking Bree all this time? If not, who do you think the mysterious culprit is?

So, what did you think of "Is This What You Call Love?" Were you glad to see Orson and Julie back? Did you notice that Ben was missing for only the umpteenth time again?

Tags: Desperate Housewives, Reviews
From Around the Web