According to the ratings, Glee's tribute to Michael Jackson was a hit.
But what about according to our Round Table panel of Matt Richenthal, Miranda Wicker and Steve Marsi? Read on for their opinions on this performance-heavy hour and then respond with your take...
-------------------------------------------
What was your favorite scene from the episode.
Matt: Can I just go with one line? It was a throwaway and many viewers might not even have noticed, but I cracked up when Glee went meta for a second and Santana mentioned that, had Kurt taped a recorder to his penis, it would have been talked about for a week.
Miranda: This is a tough one because I thought most of the episode was great compared to the past two episodes. It's a toss-up for me between anything having to do with Santana and Kurt dragging his dad all over the school before he could open his letter from NYADA.
Steve: Call me a sap. But it was Rachel saying yes, hands down.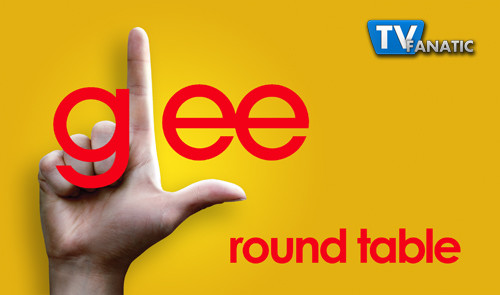 What was your favorite scene from the episode.
Matt: The cellos? The voices? The simplicity? The daggers shooting out of Santana's eyes? "Smooth Criminal" all the way.

Miranda: While I, too, loved "Smooth Criminal," I'm giving this one to Artie and Mike Chang's "Scream" based solely on the performance and not the scene in which it occurred. It's nice to be able to see Kevin McHale up and out of the wheelchair from time to time, so I like that the writers found a way to let him stretch his legs and show off his talents.

Steve: The final one, "Black or White." Especially the morphing of faces at the end, which took me back to my childhood and MJ's original video for that track.

Did the New Directions make the right move in withholding the slushee evidence from the police?
Matt: Yes. In the same way that Will made the right move two weeks ago in turning his proposal to Emma into a school assignment.

Miranda: Not even kind of. They most certainly should've turned the evidence over. That's what happens in the real world. However, Sebastian's dad is supposed to be a state's attorney, so he'd know a thing or two about having that tape ruled inadmissible and we'd be right back to a sing off. Maybe Glee just circumvented a dead-weight storyline and did us all a favor.

Steve: I agreed with both of you... until the final scene. When Santana made the point of Sebastian's fellow Warblers knowing exactly what sort of man they were dealing with, it made a bit more sense - then again, they'd also have realized this if the police had gotten involved. Okay. Yeah. It was ridiculous.

Biggest tear-jerker: Quinn getting into Yale; Rachel saying yes; Burt hugging Kurt; or Sam kissing Mercedes?
Matt: Burt FTW! He's easily my favorite character on the show, which, granted, might say as much about my growing distaste for many other characters as it does about Burt. But it killed me with his closing line to Kurt, post-hug: Today, you won.

Miranda: Since the other three were just sort of "meh" for me, Burt and Kurt win.

Steve: Quinn getting into Yale. But they were tears of joy because I hope it means we don't see any of this nut case on season four.

Do you want to see more tribute episodes?
Matt: No. They take far too much attention away from actual storylines and characters. Seriously, think about this episode for a moment: did it really make any sense at all for everyone to be wondering what Michael Jackson would do? Of course not. Ryan Murphy just wanted to sell more sons on iTunes.

Miranda: I'm down with more tribute episodes if they're done right. While some of the performances in this episode were forced to fit the episode (Sam and Mercedes, Finchel, and "Bad"), the rest of them were incorporated well and worked for me.

Steve: It really depends. This one was far better than the nonsense that was the hour-long dedication to Britney Spears, for example. Give me a Bruce Springstein tribute and I'm there!

Matt Richenthal is the Editor in Chief of TV Fanatic. Follow him on Twitter and on Google+.

Tags: Glee, Round Tables