For those who reside in colder climates, the end of February tends to be the time when we all get a bit stir crazy. In "The Butterfly Effect Effect" Max took this idea one step further by hibernating like a bear. 
Thankfully for Max, Happy Endings has its own version of Groundhog's Day. The signal that the end of winter is nigh is the annual "spring smackdown" between golden couple Brad and Jane. This fight is as dependable as Puxatony Phil, leading the rest of the gang to celebrate with personalized t-shirts. Hey, where can I get one of those? (Paging ABC Publicity!)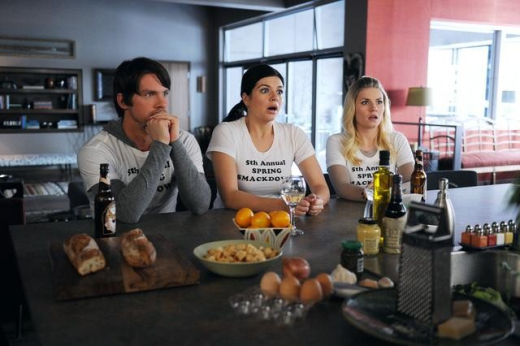 Brad and Jane are just so obsessed with each other, that you know the weather has gotten to them, too, when they start to snap. As much as it sucks having your best friend couple fight, it seems that it's rather cathartic for a lot of the crew.
For Dave, it signals the start of "douche week," which isn't so much a week as it is a year round thing here in NYC, but I digress. Brad likes to go out, get wild, have indulgent dinners and do that whole "bottle and model" thing. Dave gladly jumps on this bandwagon because it allows him two things:
To get his roommate out of hibernation.
To don whatever hideous item of clothing he deems trendy. The calf grazing leather trench just wasn't working for ya babe, sorry.
Max was cartoonish as the bear; he had his beard, onesie, was pawing at meat and performing dumb tricks. Adam Pally pulled that role off perfectly. On the other side in girls camp, we have Penny waiting in the wings to be the mother hen and voice of reason to Jane. Girlfriend was just dy-ing to get her Angela Bassett pants on and dive deep into Waiting to Exhale mode. 

Too bad for Pen that Alex served up the idea of watching Clueless instead. As much as I love pinot, flowy pants and baked brie, Clueless pretty much wins everytime. Did Penny really think she was going to win against the sisters' desire for an old fashioned sleepover? As if!

Brad and Jane had everyone going with a pretty convincing faux fight. I wasn't expecting to see a real fight, but that was just so much better. When Dave, Penny, and Alex walked in on them, with the terrace doors open and the birds everywhere, I was cracking up. I was also cracking up when Brad got attacked by the bird in the car. Can Damon Wayans Jr. just do no wrong? 

Well, the fight ended, thanks the therapist Penny, Max came out of hibernation and the sun began to shine. I just have one question left to ask: Is the bro-zilian the new fad? If so, wouldn't Dave be advertising it left and right? Don't forget to check out my favorite Happy Endings quotes from this week and to hit the comments! 

Leigh Raines is a TV Fanatic Staff Writer. Follow her on Twitter.

Tags: Reviews, Happy Endings