NCIS: Los Angeles Review: Kensi the Killer?
by Carla Day at .
Kensi, a murderer? I don't think so. In the line of duty, she could kill someone, but on her own? No way!
Granger's focus on Kensi explains why he showed up in Los Angeles, but his motivations and intentions are still unclear. If he has been authorizing Kensi's access to files about her father for years, why hasn't he confronted her before now? The killings aren't something that just popped up. Every action he has made makes him look more suspicious and guilty.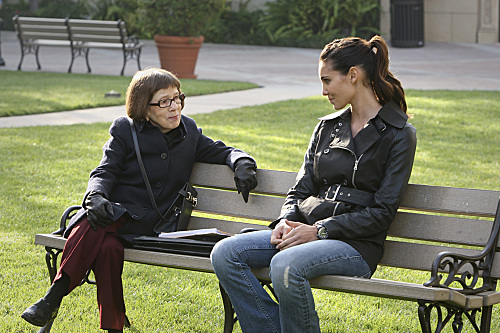 I can't fully review "Blye, K." because the story hasn't been finished yet. I feel like I was forced to stop watching a movie halfway through. So, let's take a look at what we do know.

Kensi went to Hawaii to meet with Blake, one of her father's team members, who told her that her father died from an accident while drunk driving. Given his family history with DUI, Kensi knew that he would never drive after drinking. After her father's death, his unit was disbanded and everyone went their own way. Blake told her he didn't know anything else.

Then, he came to Los Angeles and was killed in a car accident just like other members of his old unit. After him, Fisher was killed on his motorcycle, which left Harris as the sole surviving member of the unit.

Granger wasn't the only one that suspected Kensi of the killings. Harris told her that he was meeting with Blake and Fisher to try and figure out how to stay alive. Unfortunately, they just made themselves easier targets for the killer.

Kensi's father was not part of a sniper team, instead he was a member of a black ops unit. Could the squad have been involved in a mission that to their deaths? Blye's body was burnt in the car accident, could it have been someone else? Is he actually still be alive? I thought maybe he was responsible for the killings because his team broke up after his passing. That maybe they were responsible for his car accident and he taking them out as revenge? But a father wouldn't shoot at his daughter, would he?

The best guess is that each team member was killed because they knew something that threatened the assassin. Harris was the last person alive on the team to fill in the blanks. If he was killed, how will this mystery be solved?

And ... Kensi was shot! If she dies, I'll be disappointed. NCIS: Los Angeles has a tendency to change up the teams often, but the current foursome with Eric and Nell have been my favorite combination.

I really have no clue what is going to happen next. Were there clues that I missed? Who is behind the killings? Is Kensi's father still alive? And, will Kensi make it? This is going to be a long week waiting to find out the answers!

Carla Day is a staff writer for TV Fanatic. Follow her on Twitter and on Google+.

Tags: NCIS: Los Angeles, Reviews
From Around the Web